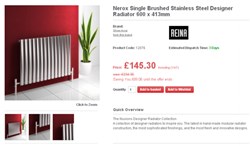 Bella Bathrooms aims to make the entire shopping experience easier and more relaxing for the consumer
(PRWEB UK) 15 February 2013
Just this week Bella Bathrooms have launched their brand new featured, the wish list. The wish list allows the customer to save any product from Bella Bathrooms into a list where they can monitor the price, add comments or sent the product to the basket when the time is right, it also provides the product code so the customer can enquire about any product if needs be.
This new features makes it a whole lot easier to build the dream bathroom, allowing the customer to select everything they desire for the bathroom and then purchase each part at a convenient time or add it all to the basket and purchase it all at once, without having to start all over again.
Once the wish list has been finished, it can be left on the customer's account at Bella Bathrooms or they can choose to email it to themselves allowing it to be viewed without logging into Bella Bathrooms. Items from the wish list will never be removed unless it is done by the customer, so the perfect bathroom is always waiting for the customer when the time is right.
Bella Bathrooms are leading distributor of quality shower enclosures and luxury bathroom furniture.
Along with the extensive quality shower enclosure, Bella Bathrooms also have a fantastic range of showers which can be seen online.
Bella Bathrooms aims to make the entire shopping experience easier and more relaxing for the consumer, so keep a look out for more exciting features at Bella Bathrooms.
About Bella Bathrooms:
Bella Bathrooms is one of the finest UK online bathroom retailers based in the North-East of England and offer continuous great deals of bathroom refurbishments, shower, towel rail and radiator updates, stylish bathroom furniture and various other key elements at prices that are guaranteed to be unsurpassable. The latest updates continuously made have further improved the overall quality and they have set a high standard for things to come in the future. The company also own a number of other e-commerce sites with their latest addition being iBathroomSuites offering most bathroom suites with a next day delivery service.
Bella Bathrooms
Tel: 0844 8117 017
Available to contact from 9am – 5pm