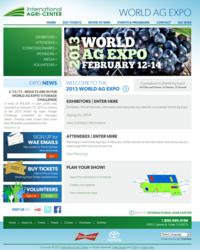 Tulare, California (PRWEB) February 23, 2013
The World Ag Expo at the International Agri-Center had another great year as the world's largest annual agricultural exposition featuring more than 1,400 exhibitors on 2.5 million square feet of exhibit space. The International Agri-Center has become famous for hosting the expo; however, the center also supports five other main functions and its staff manages websites for each. Doing so used to be a laborious task, that is until the center's leadership decided to move to a content distribution system (CDS) for its web platform last year.
In addition to the World Ag Expo website, the center's staff manages the websites for the AgVentures! Learning Center, Ag Warriors, the California Antique Farm Equipment Show, and both websites for the center's event rental facilities and wedding event department. The previous process for updating each of the websites was very cumbersome and flat out inefficient. Then last year the center's leadership decided to update the websites, and in consultation with Fresno web design company Digital Attic, the organization moved to a CDS.
Digital Attic recommended the CDS platform because its features and functions were well-suited to the staff's needs. The CDS is based on a similar concept as a website content management system (CMS), which allows users who are unfamiliar with computer programming languages to still update text and photos on websites. However, the CDS is ideal for organizations that manage multiple websites as it allows users to access and change content for multiple websites through a single portal – even if the domain names are different. In addition, Digital Attic provided custom web design services so each division's website had an individual feel, but looked consistent with the overarching International Agri-Center brand.
The CDS was developed solely in-house by Digital Attic, and it was designed to be SEO friendly with many built-in customizable features. Furthermore, the system automatically detects which type of device visitors are using to view the websites (i.e., mobile phone, tablet computer, or desktop computer) and allows the center's staff to create custom views and content for each of these devices.
To learn more about the International Agri-Center and see the CDS in action, visit http://www.internationalagricenter.com. To learn more about the CDS website design platform, visit http://www.digitalattic.com, call (559) 324-9341, or email sales(at)digitalattic(dot)com.