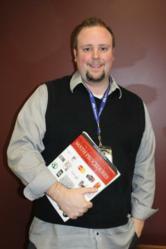 Minnesota School of Business instructor Frank Ayers helps students conquer math anxiety.
St. Cloud, Minn. (PRWEB) February 22, 2013
Minnesota School of Business-St. Cloud campus math instructor Frank Ayers is getting through to students with math anxiety with a blend of humor, games and memorable analogies. The result is students, who previously shuddered at the mere mention of math, have found success and renewed confidence in Ayers' classroom.
First-year student Tabatha Nentl, said, "I not only shocked myself, but my family as well with how much I was able to understand math I had never been exposed to before. Frank's ability to bring math to life made it much more interesting."
Ayers teaches math and business administration classes at the Minnesota School of Business-St. Cloud, Minn. campus. He says he is motivated by the fact that everyone can learn math. Ayers makes math more approachable by equating abstract symbols with popular culture icons. For instance, he equates the less than and more than math symbols with Pac-Man, the classic video game.
On the first night of class Ayers' students play a name memory game where they use symbols to represent their names in unforgettable ways. To demonstrate, he uses baseball imagery for his own name: Frank (he draws a hot dog) and a mistake in baseball (error equals Ayers).
Ayers, who has a BS in mathematics and an MBA, spent time working at Best Buy before landing at the St. Cloud campus. He credits his patience in the classroom and ability to spot student communication preferences as keys to helping students master math.
Destiny Fredell concurred: "I thought that math would be my least favorite class last semester, but it turned out to be my most favorite class. (Ayers) helped me overcome this fear (of math) by making it fun, and he is very good at explaining how things work."
The campus where Ayers teaches has recognized him twice with its instructor of the year award. According to his boss, the dean of faculty, Ayers personifies the school's We Care philosophy, which puts students at the center of its mission.
ABOUT MINNESOTA SCHOOL OF BUSINESS
Minnesota School of Business is part of a premier, family-owned system of career colleges, universities and training centers based in Woodbury, Minn. These specialty-skills colleges prepare professionals for successful careers in a wide range of high-demand fields. Through its philosophy, We Care, the organization integrates hands-on education and applied-learning experiences that expose students to their communities and real-world situations. Programs offer undergraduate, diploma and graduate degrees in a wide range of career fields, including business and accounting, health sciences, legal sciences, technology, creative media and applied arts. More than 30 programs are available online. All academic programs are accredited by the nationally recognized Accrediting Council for Independent Colleges and Schools (ACICS). For more information, visit msbcollege.edu.
# # #