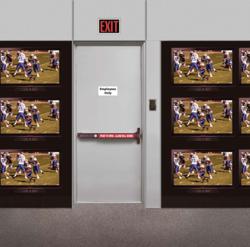 "This system helps retailers control stockroom losses but still provides an exit for emergency situations ... [and] adapts easily to any store layout and is simple to install."
(PRWEB) February 20, 2013
For the first time, Detex Corporation now offers a special life safety and security system that helps retailers deter customers from entering stockrooms from the sales floor. During an emergency, the system also provides a life safety path through the stockroom for customers and employees.
Certain high-security and retail applications require a combination of components, and the Stockroom Security System features a range of hardware designed for specific requirements. In addition, the system is scalable for more complex application requirements. Retailers can select the exact combinations of components that suit their particular application and know that the components will integrate easily with each other and function well as a system.
Stockroom System components include Detex alarmed panic devices that can be wired or can operate with a nine-volt battery; access control keypads and card readers that have flexible programming capability and options such as anti-tamper switches; and door-propped alarms, battery or wired, that alert staff with a 100dB alarm when a door is being held open for too long.
"This system helps retailers control stockroom losses but still provides an exit for emergency situations," said Ken Kuehler, National Accounts Manager at Detex. "It adapts easily to any store layout and is simple to install."
For more than a century, Detex has earned the trust of architects and owners who rely on Detex products for the life safety and security of people and property. A USA company, Detex designs, manufactures, markets and ships products from New Braunfels, Texas. Detex is known internationally for life safety and security door hardware, loss prevention and architectural hardware, integrated door security systems, and guard tour verification.
To learn more about our stockroom systems, e-mail marketing(at)detex(dot)com or visit http://www.detex.com.