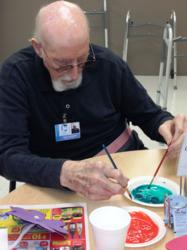 It's the difference between feeling isolated and lonely to feeling connected.
(PRWEB) February 15, 2013
At Carolina SeniorCare PACE (Program of All-inclusive Care for the Elderly) every obstacle becomes an opportunity to change a senior's life for the better. In February participants at the Lexington, NC center began receiving watercolor art classes by use of FaceTime technology.
Due to an inability to move around, Carolina SenorCare participant, Frances Tysinger, was limited to visits to the PACE Day Center and therefore, missed her friends and the interaction of daily activities.
The interdisciplinary team at Carolina SeniorCare quickly came together to seek a solution aimed to give the participant socialization to enhance her quality of life. Team members remedied the issue by taking the computer savvy participant and making FaceTime available for her to connect to the Day Center and her friends. Ms. Tysinger, an accomplished artist, began teaching watercolor art classes to the other Carolina SeniorCare participants via FaceTime. She is thrilled with the opportunity to teach again and excited about "giving back" to the community.
As technology continues to advance, our world has become more connected than ever before. There are many benefits of using technology but these four made it the right choice for Carolina SeniorCare:
•It's Free
•It's Easy
•It Offers Face to Face Communication
•It's Mobile
Using a video program like FaceTime is almost like sitting side by side in the same room. It brings happiness to everyone involved, especially when traveling isn't an option. "To be able to physically see loved ones and their expressions is really critical to feeling part of a family," shared Nicole Marsh, Activities Director for Carolina SeniorCare. "It's the difference between feeling isolated and lonely to feeling connected."
Carolina SeniorCare a Program of All-Inclusive Care for the Elderly (PACE) provides an alternative to nursing home placement. PACE allows individuals in need of skilled nursing care to remain in their home or community setting and receive quality care from Carolina SeniorCare's team of clinical experts. Thomas Chang, Executive Director of Carolina SeniorCare states, "Our vision is to enhance the lives of seniors by providing the right care, at the right time, in the right setting. By delivering all necessary medical care and support services, this program is able to offer the entire continuum of care to seniors with chronic care needs while encouraging independence in their own homes for as long as possible."
Carolina Senior Care is the 88th PACE program in the nation and is the 6th program to open in NC. For additional information, visit http://www.carolinaseniorcare.org or call 336-746-3500 for additional information.