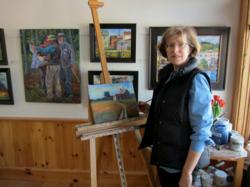 "Tour this online art gallery often as there are constantly new pieces of art being added"
(PRWEB) February 19, 2013
The online art gallery MadeInhaliburton.ca is pleased to announce the addition of two new artists to its juried art gallery. Elizabeth Johnson is a painter whose loose brushwork and singing colours reveal the joy and dignity of an unpretentious life in rural Ontario, along with its rugged residents. Elizabeth can often be seen painting en plein air and delights in being able to stand where one of the group of seven stood to interpret the scene in her own style.
Helen Vella has a more impressionistic style of landscape painting that has been fueled by her return to Canada from Ireland where she largely concentrated on portraiture. Her love of Ireland has also resulted in the inclusion of castles in her portfolio of work.
With the addition of these two artists the online art gallery, MadeInHaliburton.ca now boasts 51 artists and 3 arts organizations. More artists have been approved by the jury and will be appearing in the not too distant future as the website grows from its beginnings just ten months ago with 35 artists.
The artistic community of Haliburton Ontario is small but, mighty. While there are only 15,000 permanent residents there are over 300 artists working in their studios speckled around the county. There are two very active physical galleries in the region: one in Haliburton and one in Minden. It is also the home of a campus of Fleming College that includes the Haliburton School of the Arts. Many local artists act as faculty for the varied and rich programming of the school of the arts but, it also draws faculty from further afield as Canadian artists recognize this community as a rich enclave for the arts. The reputation of this region is so arts focused that the tourism slogan is "a natural work of art": apropos as well due to the pristine natural environment that adorns the community.
In addition to the artists who reside in the county full-time there are more who have cottages here and use their cottage as a base for their artistic endeavours. The Group of Seven started a tradition of using the natural environment in this region as inspiration for art. Current artists are simply following their lead. Even artists whose paintings are not of the local environment find that being surrounded by nature augments their artistry. Hence, there is a variety of subject matter in the work of the artists who live or cottage in this region.
The gallery owners Don & Marie Gage invite the public to take an online tour of the work of these amazing artisans. They say, "come back frequently as new work is constantly being added".