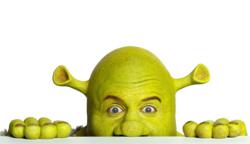 A big fat hit! A triumph of comic imagination...altogether irrresistable."
USA TODAY
Modesto, Calif. (PRWEB) February 16, 2013
"Shrek The Musical," based on the story and characters from William Steig's book as well as the first film in the DreamWorks Animation series, opens at the Gallo Center for the Arts on Friday, March 8. The Broadway touring production will be at the performing arts center for five performances through Sunday, March 10.
Tickets range in price from $29 to $99. The Gallo Center has arranged with the show's producers to offer one complimentary ticket for youths 17 and under for every adult ticket purchased. The free ticket offer is available for all performances and at all ticket price levels. It may be redeemed when ordering by phone, (209) 338-2100, or at the ticket office, 1000 I Street in downtown Modesto. The offer is not available online.
An entirely new musical which opened on Broadway in December, 2009, it tells the story of a swamp-dwelling ogre who goes on a life-changing adventure to reclaim the deed to his land. Joined by a wise-cracking donkey, this unlikely hero fights a fearsome dragon, rescues a feisty princess and learns that real friendship and true love aren't only found in fairy tales.
"Shrek The Musical is part of the Boyett Petroleum Broadway Series at the Gallo Center for the Arts. It is sponsored by Del Monte Foods, Prime Shine Car Wash and Tri Counties Bank.
The production features a book and lyrics by Pulitzer Prize-winner David Lindsay-Abaire, and music by Olivier Award-winner Jeanine Tesori. It is directed by Stephen Sposito who served as associated director of the recent Broadway revival, "How To Succeed In Business" starring Daniel Radcliff.
The Broadway production of "Shrek The Musical" was initiated when film director Sam Mendes ("American Beauty," "Skyfall"), a big fan of the first Shrek film, suggested the idea of creating a musical to DreamWorks Animation's Jeffrey Katzenberg around the time the second film was in production. The musical is produced by NETworks Presentations, LLC.