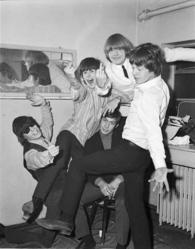 The Rolling Stones, backstage, The Ritz, Huddersfield 1965.
(PRWEB UK) 16 February 2013
For one night only, on Monday 25th February, the new Dawsons Music store on Williamson Street in Liverpool city centre will exhibit a collection of never-before-seen black and white photographs of The Beatles and The Rolling Stones. The exhibition is to mark the recent opening of the new Dawsons store, on what would have been the 70th birthday of Beatles guitarist George Harrison.
Taken in 1963 and 1965 on two separate occasions at the Ritz Theatre in Huddersfield, by local photographer Trevor Bray, these images have never been published or even publicly displayed before. Seen together, the photographs highlight the difference between the very professional and respectable image of The Beatles, and the "bad-boy" antics of The Rolling Stones but it is also reportage-style photographs of Brian Jones and Mick Jagger that add to the interest of this collection.
The photos are now the property of Trevor's daughter Helen Bray, who is also a photographer (the Bray family have been photographers in Holmfirth and Huddersfield since 1917).
Entry will be free upon proof of successful registration with the option to make a donation to the Linda McCartney Cancer Centre at the door.
Limited edition prints will be available to buy on the evening (with a percentage of the proceeds also going to the Linda McCartney Centre).
The registration form for this even can be found here...
http://www.dawsons.co.uk/blog/exhibition-of-unseen-photographs-of-the-beatles-and-stones-at-dawsons-liverpool