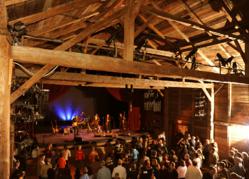 Vienna, Virginia (PRWEB) February 14, 2013
Helen Reddy
Thursday, March 7 at 8 pm
Friday, March 8 at 8 pm
$45
The "Queen of '70s Pop" revives her legacy at The Barns at Wolf Trap by singing her favorite uncharted tracks, many never before performed live. Over the course of her career, the GRAMMY-winning Australian singer/songwriter has landed 15 singles on Billboard's Hot 100. She is most recognized for her introspective memoir and feminist tune "I Am Woman" (1972), which became a No. 1 hit on Billboard's Hot 100, along with "Delta Dawn" (1973) and "Angie Baby" (1974). In 1974, Reddy was the first artist to be awarded the American Music Award's "Favorite Pop/Rock Female." In addition to her accomplishments as a recording artist, Reddy has performed onstage at New York City's Broadway and London's West End. She has also appeared on film as the voice of Nora in Disney's Pete's Dragon (1977). Since retiring from the music industry in 2002, Reddy resurfaces as a musician with a rejuvenated spirit to perform a select number of shows in intimate settings, featuring guitar, keyboard, and vocals.
Video: Helen Reddy – I Am Woman
Enter The Haggis
Saturday, March 9 at 7:30 pm
$22
Indie-Americana rockers Enter The Haggis bring their popular Celtic sounds to The Barns at Wolf Trap, juggling an array of traditional Irish instruments, including fiddle, banjo, accordion, and whistle. In 2009, their genre-crossing record Gutter Anthem reached No. 13 on Billboard's World Albums chart and No. 2 on iTunes World Music chart. Reaping the success of the group's recently released ninth studio album, Whitelake (2011), the Canadian band prepares to drop their newest recording project, The Modest Revolution, on March 30, 2013. Refusing to sign contracts with record labels, Enter The Haggis raises funds to produce albums through complete fan support. As a "thank you" to the devoted fans responsible for backing the production of The Modest Revolution, the band will be releasing four tracks prior to the official release date which will be free and available to download on their website.
Video: Enter The Haggis – Devil's Son
Tickets can be purchased by calling 1(877) WOLFTRAP; or online at http://www.wolftrap.org.
For more information, call The Barns at Wolf Trap at (703) 938-2404 or our general information line at (703) 255-1900.