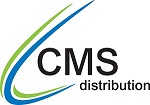 This new initiative with WD allows us to offer even more value to our resellers helping differentiate themselves in their SoHo NAS offerings
London, United Kingdom (PRWEB UK) 15 February 2013
CMS Distribution, largest independent distributor of data storage products and solutions in the UK and Ireland, today announced the exclusive OEM agreement with WD, a storage industry leader, to populate home and small office NAS (network attached storage) systems manufactured by Synology, QNAP and Thecus with WD RED hard drives. This new arrangement empowers CMS Distribution to provide complete NAS solutions to resellers in the UK and Ireland, offering them the advantage of purpose-built high performance NAS products and new business opportunities in a growing market.
"This new initiative with WD allows us to offer even more value to our resellers helping differentiate themselves in their SoHo NAS offerings," – commented Simon Atkinson, CMS's Business Development Manager. "We see more and more end-users looking for optimal hard drive for their NAS boxes rather than for the cheapest available solution and that's why we think it is important to offer a complete NAS solution fitted with purpose-designed hard drives from WD. The work and effort that WD has put behind the technology and marketing of Red drives will help all CMS partners gain even more of the booming SoHo and SMB NAS business in the UK and Ireland"
"WD is delighted with the CMS Distribution OEM agreement that offers the award winning line of WD Red™ NAS drives as solutions in A brand products." said Jermaine Campbell, WD Country Manager for the UK, "The reseller community has received our WD Red™ drives with unprecedented enthusiasm since its launch, because it features; 3yr warranty, dedicated telephone support and NASware™ technology, which uniquely positions this product as the only HDD designed for consumer and SOHO NAS. The OEM relationship between WD and CMS also covers WD RE™ and XE™ Enterprise class drives for NAS solutions in the more demanding Enterprise environment"
CMS Distribution is the leading QNAP, Synology and Thecus distributor, offering bare and populated units. Including WD Red drives with popular 1-5 bay NAS systems will provide additional benefits to resellers, such as: improved cost of ownership to the end user, exceptional reliability and compatibility, premium dedicated 24/7 technical support, energy efficiency and 3 year warranty as standard.
About WD
WD, a storage industry pioneer and long-time leader, provides products and services for people and organizations that collect, manage and use digital information. The company designs and produces reliable, high-performance hard drives and solid state drives that keep users' data accessible and secure from loss. Its storage technologies serve a wide range of host applications including client and enterprise computing, embedded systems and consumer electronics, as well as its own storage systems. Its home entertainment products enable rich engagement with stored digital content.
Western Digital was founded in 1970. The company's products are marketed to leading OEMs, systems manufacturers, selected resellers and retailers under the Western Digital®, WD® and HGST™ brand names. Visit the Investor section of the company's website (http://www.westerndigital.com ) to access a variety of financial and investor information.
About CMS Distribution
CMS Distribution is an award-winning, value added distributor of business and consumer data storage products and solutions in the UK and Ireland.
The company is strictly trade only and sells to both the B2B and B2C channel partners. It services thousands of VARs, resellers and consultants from multi-nationals to smaller, local IT companies.
CMS is passionate about taking carefully chosen emerging storage vendors and new technology to market and is committed to scaling the vendors' and resellers' business by delivering operational excellence. The guiding philosophy is to exceed the expectations of all stakeholders.
Visit http://www.cmsdistribution.com to view all products and open a trade-only account.