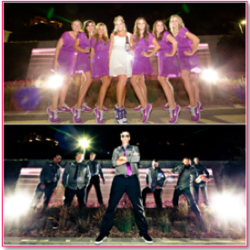 Many couples today choose to plan their weddings themselves to save costs or to bring more of their own vision to their big day. We give savvy couples the tools they need to plan and a team of pros to make sure their ideas come to life without a hitch.
Los Angeles, Calif. (PRWEB) February 15, 2013
First-of-its-kind online wedding planning company, Pink Cloud 9, celebrates today its first year anniversary by launching an array of innovative web tools. Savvy brides and grooms gain unprecedented access to a curated directory of highly trained coordinators and their top vendors.
Pink Cloud 9 makes wedding choices easy by delivering cutting-edge resources to DIY brides and grooms in California and beyond. Couples can find, hire, and manage the best service providers all in one place with the help of detailed profiles and customer reviews. Instant online chat with in-demand planners, convenient credit card booking, and a Vendor Concierge with over 600 packages in Los Angeles alone are among the many exclusive features the company has created to transform the wedding experience.
"Technology innovation is at the heart of Pink Cloud 9," says Pink Cloud 9's CTO and Co-founder Mark Shervey. "Wedding planning is a complex and time consuming process and we are thrilled to introduce a broad spectrum of online tools to save couples' valuable time, energy and cost this February."
Wedding vendors report a 150 percent increase of services sold online between 2010 and 2012 with a total market share of fifteen billion dollars in the U.S. alone. Pink Cloud 9's innovative business model is positioned for growth in 2013 and beyond.
Affirming the company's strong start in 2012, the bridal industry's #1 publication, The Knot recently awarded Pink Cloud 9 with "Best Wedding Planners" in their "Best of Weddings, 2013" edition. The Knot Wedding Network, which includes TheKnot.com and WeddingChannel.com, reaches 8 in 10 U.S. brides every year.
As the cost of a wedding rises, modern couples are looking for creative ways to say "I do" for less. According to The Wedding Report, 84% of couples spent less than $30,000 on their big day in 2012. Do-it-yourself wedding trends can bring significant cost-saving benefits, which allows Pink Cloud 9 to offer custom-tailored professional wedding planning tools at a fraction of the cost of traditional services.
"At Pink Cloud 9 we work tirelessly to make sure everyone's big day is carefree, even on a small budget," shares Pink Cloud 9 Founder and CEO Sarah Shewey. "We launched our service on St. Valentine's Day to symbolize our true commitment to keeping the wedding focus away from planning minutiae and on what really matters -- love."
Brides and grooms can take back control of their wedding day now at http://www.pinkcloud9.com.
# # #