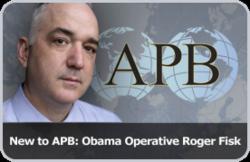 I am really thrilled to partner with APB.
Washington, D.C. (PRWEB) February 14, 2013
Nearly six years to the day since working then-Senator Obama's presidential announcement in 2007, Roger Fisk has announced he is joining the American Program Bureau (APB), a Boston-based international speakers bureau, to share with audiences the lessons and stories of the Obama journey.
Fisk will draw on his vast and varied experiences on presidential campaigns (Obama '08, '12; Kerry '04) and in presidential administrations (Obama, 2009-2013) to share his insights into the changing political landscape of the 21st century. "I am really thrilled to partner with APB and look forward to sharing my enthusiasm for politics," says Fisk. "We live in an incredibly interesting time in terms of how we can engage people and get them involved in big, important ideas. I am grateful for the journey I have traveled and look forward to sharing that enthusiasm with audiences all over the country."
An early addition to the Obama effort, Fisk worked 30 states in the first Obama campaign as the director of special events, then went home to Massachusetts where he worked as the Commonwealth's state director in the general election. While on the road, Fisk was in charge of such high-profile events as "A More Perfect Union"—Obama's historic speech on race in Philadelphia, March 2008—as well as the candidate's appearances on 60 Minutes, Saturday Night Live and Good Morning America. For the first Obama term, Fisk served at the commerce department where he coordinated trade and diplomatic missions all over the world; in spring 2012 he went on to work the president's reelection as a White House lead advance. Fisk also worked both inaugurations: in 2009 as Cabinet liaison and 2013 in contingency planning and operations.
Prior to this, Roger Fisk spent many years in service to current Secretary of State John Kerry (as an intern in 1989; as part of the US Senate staff as a senior aide, 1996; on the Senate reelection team, 1990; and on the Kerry presidential campaign). He is a resident of Washington, D.C.
About American Program Bureau (APB):
In business since 1965, APB represents a roster of high-profile speakers from entertainers and politicians to thought leaders and academics. Learn more about APB at apbspeakers.com or follow us on Twitter @apbspeakers.