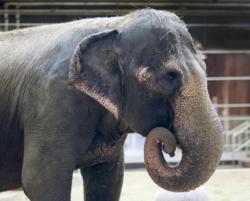 Denver, CO (PRWEB) February 14, 2013
Denver Zoo's new Asian elephant, Kimbo, can now be seen by guests to Denver Zoo in the parlor of the Clayton F. Freiheit Elephant House in Toyota Elephant Passage. Kimbo, a 42-year-old female, arrived from Fort Worth Zoo in December and spent the last couple months getting acquainted with her new state-of-the-art indoor quarters while she cleared a mandatory quarantine process.
Zookeepers describe Kimbo as a little bit shy and cautious, but say she is becoming more comfortable with her new sounds, smells and opportunities. The first new female elephant to move into the exhibit, she is just now getting to know longtime zoo resident elephant Dolly as a herd mate. The two are getting along well and will provide each other excellent company long-term. They are similar in age as Dolly is believed to be at least 48-years-old. Exact birthdates aren't known for either elephant, though. Dolly was born in India while Kimbo was born in Thailand.
She comes to Denver Zoo through a recommendation of the Association of Zoos and Aquariums (AZA) Species Survival Plan (SSP), which determines the best home for animals in North American zoos to ensure healthy populations and genetic diversity among zoo animals. SSPs are cooperative animal management, breeding and conservation programs that work to ensure long-term species survival.
Kimbo brings Denver Zoo's Asian elephant population back up to four including its two bulls, 8-year-old Bodhi and 41-year-old Groucho.
Asian elephants are found in a wide variety of habitats in southern Asia, in countries such as India, Thailand and Vietnam. They are classified as endangered by the International Union for Conservation of Nature (IUCN), with an estimated wild population only 30,000. Their numbers continue to decline due to habitat loss and fragmentation along with poaching for ivory.