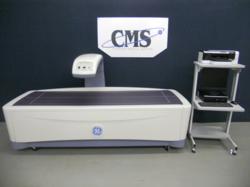 Sterling Heights, MI (PRWEB) February 19, 2013
Complete Medical Services, a leader in refurbished bone density equipment, collaborates with GE Healthcare to sell the new Lunar Prodigy* bone density systems to the primary care USA medical market.
Since 1996 CMS has been a leader in the imaging industry providing systems and options to help doctors improve their patient care and increase practice revenues by providing technology with advanced features and streamlined workflow. Tony Orlando, President of Complete Medical Services, realized early on that bone density systems provide a critical service in patient care.
CMS was determined and dedicated to lead the way in educating doctors in private practice on the importance of providing osteoporosis testing in their own office. CMS embraced it and bone density equipment quickly found a very important home with CMS.
Today, after 17 years of focused commitment to provide quality refurbished bone density equipment - Complete Medical Services is recognized as just that – a leading provider of refurbished bone density equipment.
GE Healthcare—a leading manufacturer of bone density systems—has worked with CMS for many years. This relationship grew and flourished over the years. GE Healthcare and Complete Medical Services worked cooperatively as CMS bought GE trade-in equipment and GE refurbished bone density systems.
GE Healthcare has recognized the dedication of CMS to promote bone density. GE and CMS are furthering their collaboration to sell the new Lunar Prodigy bone density systems to the private practice physicians in the USA.
It is very exciting for a leading provider of refurbished bone density equipment to bring new systems to the market.
Couple this news with a release of new Lunar Prodigy enCORE software features. GE Corescan* software (released last quarter of 2012), allows scanning options on the bone density software to accurately quantify visceral fat that was only possible before with a CT or MR.
This is very exciting news for doctors and their patients. Bone density measurement is not just about helping physicians diagnose osteoporosis but it is also a critical component in preventative healthcare.
Preventative healthcare (health and wellness) is not a new trend - but will be a focus for Complete Medical Services as they move into 2013.
Tony Orlando and his team at Complete Medical Services understand very well that many doctors see patients that are battling weight issues, suffer from diabetes and cardiac disease. Doctors are becoming more and more concerned about nutrition, diet and weight loss as a means to deter preventable diseases like diabetes.
Giving doctors the proper tools to compare body fat versus lean mass will help them quantify a patient's weight loss and monitor the patient's progress. Having features like Corescan will give the doctor the ability to quantify visceral fat - a leading indicator of type 2 diabetes and metabolic disease.
All doctors can benefit by helping their patients. Patients of all ages can benefit from advanced body composition studies - regardless of body shape or size.
Complete Medical Services will be taking a lead in bringing this technology to the private practice physicians. Many options are available, and we will work with physicians on a solution for their budget. With a changing medical reimbursement environment, it is becoming more important for physicians to look at all revenue streams for their practice.
The bone densitometer is a key imaging tool that can be found in many successful medical offices.
For more information on this article or bone density equipment - contact Jeff Rubinoff, Vice President of Complete Medical Services - jprubinoff(dot)completemedicalservices(dot)com
*Trademark of General Electric Company