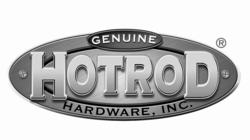 Tallmadge, OH (PRWEB) February 14, 2013
The Genuine Hotrod Hardware Pedal Car Challenge is a contest for high school and trade school students who live near each show venue. Genuine Hotrod Hardware supplies the replica pedal cars; the finished cars are judged for creativity, craftsmanship, overall appearance, and attention to detail. Awards are presented for first-, second-, and third-place entries. The pedal cars are auctioned off during each shows' charity program, with the proceeds going to each school's automotive program.
Butler Tech/D. Russel Lee High School won the inaugural Pedal Car Challenge at the Cincinnati Cavalcade of Customs. Other winners to date are:

Parkway West Vo-Tech, Pittsburgh World of Wheels
North West Technical School Kansas City World of Wheels
McKenzie Center for Innovation & Technology, Indianapolis World of Wheels
The final Pedal Car Challenges will be held at the Chicago World of Wheels, March 1-3 and the Detroit AutoRama, March 8-10.
Legendary car customizer and Hollywood car builder Gene Winfield is taking his talents on the road for the Gene Winfield Chop Shop Presented by Genuine Hotrod Hardware. The display duplicates Winfield's All-American Chop Shop at nine events on the Summit Racing Show Car Series tour. At each event, Gene works with a local car club to demonstrate the art of 'chopping a top' on a car over the course of the event.
The Gene Winfield Chop Shop Presented by Genuine Hotrod Hardware will be at the following Summit Racing Show Car Series events:

Milwaukee World of Wheels, Feb. 15-17
Chicago World of Wheels, March 1-3
Detroit Auto-Rama, March 8-10
Omaha World of Wheels, March 15-17
Boston World of Wheels, March 22-24
For more information on the Summit Racing Show Car Series and AutoRama events, visit http://www.Autorama.com
LINK TO GENUINE HOTROD HARDWARE PEDAL CARS: http://www.genuinehotrod.com/search?keyword=PEDAL%20CARS
Genuine Hotrod Hardware
1-800-575-1932
http://www.GenuineHotrod.com