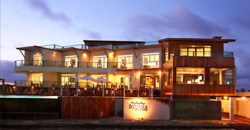 Pensacola, FL (PRWEB) February 15, 2013
Guy Harvey Outpost Resorts announced today the company's entry into in the Galapagos Islands, with hotel projects on the islands of San Cristobal and Isabela. The Galapagos National Park 600 miles off the coast of Ecuador is a bucket-list destination for travelers seeking truly unique wildlife interaction.
The popular Iguana Crossing hotel, located on Isabela, has joined the Expedition Properties portfolio of Outpost Resorts. Winner of TripAdvisor's 2013 Traveler's Choice Award for Best Service, this 14-unit contemporary styled hotel sits on a three mile beach of white powder sand, in the shadow of the Sierra Negra Volcano, one of five active volcanoes on the island. "Here on the equator, Iguana Crossing delivers a remarkable luxury beach vacation experience, with incredible wildlife interaction, both on land and in the water" comments Ellert. "With sand streets and 2,200 residents, the diversity of this westernmost island is not to be missed if you want to really appreciate the Galapagos."
On the easternmost island of San Cristobal, the company plans a 2016 opening of the Guy Harvey Outpost Resort Galapagos, a cutting edge eco-lodge. Located 500 meters above the local harbor settlement, thirty casitas and four residences will enjoy panoramic vistas of the Pacific Ocean and a foreground of open fields through which giant tortoise roam. The project will include a Guy Harvey Discovery Center and Theater to showcase environmental and marine research underway in the Galapagos. The project team includes Hitesh Mehta, one of the world's leading authorities on eco-lodge planning and architecture, NOVA Southeastern University and the International Game Fish Association.
Outpost President and founder Mark Ellert commented: "I know of no other tourism company operating in the Galapagos that has a scientist and conservation authority as its chairman, and a research institute as a brand partner. For these reason the park sees our interest in Galapagos as a game changer." Company chairman, Dr. Guy Harvey, holds a PhD in marine science and oversees the international science and conservation efforts of his Guy Harvey Research Institute and Ocean Foundation.
Guy Harvey Outpost Resort properties feature top-of-class watersport activities with beach and marina amenities. Current properties are located in Florida and the Bahamas.