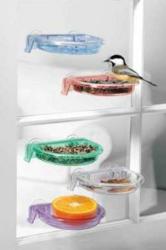 Plainfield, CT (PRWEB) February 20, 2013
Like the birds they attract, Droll Yankees' new Tweet Spot window feeders are colorful, compact, and infinitely appealing!
Most window feeders are bulky and make it difficult to see visiting birds. Droll Yankees' Tweet Spot feeders are low-profile dishes made of colorful, UV-stabilized clear plastic, and they attach to any window with two strong suction cups. When birds visit a Tweet Spot feeder, they appear to be right in the room.
The Tweet Spot Canopy (TS-C), a separate piece, is designed to protect birds and food from weather, and can be attached directly over one Tweet Spot dish, or a vertical stack of dishes. With no obstruction between the low-profile feeder and an overhanging feeder roof, a great view of the birds is only dependent on how clean the window is!
The Tweet Spot Dish with Drainage Holes (TS-D) comes in an assortment of colors, to appeal to all tastes – orange, green, purple, or clear – and holds ½ cup of seed, fruit, or mealworms. Drainage holes in the dish keep food dry and fresh.
The Tweet Spot Dish without Drainage Holes (TS-W) comes in a light blue color and holds water, jelly, fruit, or mealworms.
These dishes make a colorful statement on a window - either by themselves or as a group - and are sure to brighten any dreary winter day with some lively bird activity!
Look for Tweet Spot products at your local retailer, call Droll Yankees at 888-851-6621, or shop online at http://www.drollyankees.com.
###
In 1969, Droll Yankees started a bird-feeding revolution with Model A-6F, the first tubular bird feeder. Since then, Droll Yankees has built on that success, continually developing innovative approaches to bird feeding that benefit both the birds and Droll Yankees customers. Generations of bird lovers have appreciated Droll Yankees' quality construction, functional simplicity, and commitment to American workers. Droll Yankees offers a Lifetime Warranty and will replace any squirrel-damaged or defective parts, free of charge. To learn more about Droll Yankees' products, visit http://www.drollyankees.com.