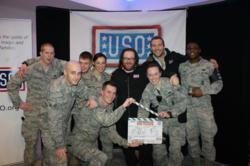 "It was a touching experience to visit the men, women and families who live and work at Ramstein Air Base in Germany," said Courtney. "It's one thing to play an action hero but these people are the real deal...
Arlington, VA (PRWEB) February 14, 2013
In support of America's Armed Forces, 20th Century Fox partnered with the USO and treated hundreds of military personnel and their families to an advance screening of "A Good Day to Die" in Germany (Feb. 5) and Kuwait (Feb. 11). The first-ever audience to preview the feature length film before its nationwide release today, these troops and special guests also received an array of promotional items, from hats and t-shirts to toys and dishware.
Additionally, film director John Moore and star Jai Courtney paid a surprise visit to Ramstein Air Base; and film editor Dan Zimmerman visited Camp Arifjan. While onsite, the trio took time to thank troops and their families, and shared behind the scenes stories about what it was like to make the film.
DETAILS:

The USO screening in Germany took place on Ramstein Air Base and was attended by approximately 400 airmen and their families stationed throughout the Kaiserslautern military community. Among those in attendance were 85 wounded, ill and injured servicemen and women, who are currently undergoing care at Landstuhl Regional Medical Center.
Following the screening in Europe, Moore and Courtney greeted audience members.
Just six days later, the film was transported to Kuwait, where it was seen and enjoyed by more than 700 soldiers, Marines, airmen and reservists in two separate showings.
After the showings in the Middle East, Zimmerman spoke to attendees and relayed America's support.
In total, more than 1,100 troops were entertained by the advance screenings and outpouring of support. The events marked the first USO experience for Moore, Courtney and Zimmerman.
Filmed primarily in Budapest, Hungary, "A Good Day to Die Hard" is the fifth installment of the Die Hard blockbuster franchise starring USO tour veteran/actor Bruce Willis as 'John McClane.' Shot in 2012, the film follows 'McClane' as he travels to Russia to help his estranged son 'Jack,' (played by actor Jai Courtney) and the pair join forces to try and stop a nuclear weapons heist. The film will be released in the U.S. and Canada on today and is the first "Die Hard" picture to be released in IMAX theaters.
Born in Dundalk, Ireland, Moore rose to prominence when he was asked to direct the war film, "Behind Enemy Lines (2001)" following years of making a name for himself directing action-driven, special effects-laden commercials. Following blockbuster success, Moore went on to direct "Flight of the Phoenix (2004)," "The Omen (2006)" and "Max Payne (2008)." Specializing in horror and action pictures, Moore directed the fifth installment of the "Die Hard" franchise, "A Good Day to Die Hard."
Best known for his role as 'Varro' in Starz "Spartacus: Blood and Sand," Courtney was born and raised in Sydney, Australia, and recently appeared in hit film "Jack Reacher" opposite Tom Cruise. Coming up, Courtney can be seen in the thriller "I, Frankenstein" starring Aaron Eckhart.
QUOTE: Attributed to Jai Courtney:
"It was a touching experience to visit the men, women and families who live and work at Ramstein Air Base in Germany. It's one thing to play an action hero but these people are the real deal and are infinitely more deserving of the applause. We were thrilled to be invited by the USO to visit and extend our gratitude for their tireless contribution to the armed forces and the protection of the United States."
Twitter Pitch: @20centuryfox and @the_USO treat troops to advance screening of new ‪#DieHard flick in Germany and Kuwait!
MULTI-MEDIA:
Tour Photos: http://bit.ly/X0asqp
USO Fact Sheet: http://bit.ly/yaebvo
###
About the USO
The USO lifts the spirits of America¹s troops and their families millions of times each year at hundreds of places worldwide. We provide a touch of home through centers at airports and military bases in the U.S. and abroad, top quality entertainment and innovative programs and services. We also provide critical support to those who need us most, including forward-deployed troops, military families, wounded warriors and families of the fallen. The USO is a private, non-profit organization, not a government agency. Our programs and services are made possible by the American people, support of our corporate partners and the dedication of our volunteers and staff.
In addition to individual donors and corporate sponsors, the USO is supported by President's Circle Partners: American Airlines, AT&T, Clear Channel, The Coca-Cola Company, jcpenney, Jeep, Kangaroo Express, Kroger, Lowe's, Northrop Grumman Corporation, Procter & Gamble, and TriWest Healthcare Alliance and Worldwide Strategic Partners: BAE Systems, The Boeing Company, Lockheed Martin, Microsoft Corporation and TKS Telepost Kabel-Service Kaiserslautern GmbH & Co. KG. We are also supported through the United Way and Combined Federal Campaign (CFC-11381). To join us in this patriotic mission, and to learn more about the USO, please visit uso.org.