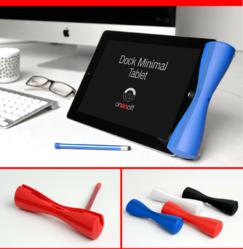 The Dock Minimal was created so that tablet users don't have to worry about buying a new stand and dock when they switch to a newer model or different brand.
Hong Kong (PRWEB) February 14, 2013
The hottest universal tablet dock and stand to hit the crowdfunding market, Dock Minimal, has extended its Indiegogo campaign through Sunday, February 24, 2013. Onanoff, the company behind Dock Minimal, made this decision in order to give more tablet users the opportunity to get their hands on a Dock Minimal before the campaign is over.
Onanoff wants to bring the Dock Minimal to the market and in order to do so, they need to raise the funds necessary to manufacture the product. So, onanoff has set their Indiegogo funding goal to $25,000. Fans of the Dock Minimal have the opportunity to easily create an Indiegogo account and purchase the dock which will ship soon after the campaign has ended.
What makes the Dock Minimal better than other tablet stands and docks is the fact that it's universal and can be used with most tablets out on the market today. Currently, the Dock Minimal supports the iPad Mini, iPad, Kindle, Samsung and Nexus tablets/e-book readers, and will support the new iPad 5 as well. Onanoff also plans on adding to that compatibility list in the near future.
The Dock Minimal is currently available at an early bird special of $25 (for black) and $35 (for colored) for the first 200 backers. Once 200 Dock Minimals have been claimed at each level, the price will then increase to $29 and $39, respectively. In exchange for supporting the project and making a donation, onanoff is offering perks which include the Dock Minimal itself, multiple packs of the Dock Minimal, the Dock Minimal for iPhones/iPods and other products by onanoff.
"The Dock Minimal was created so that tablet users don't have to worry about buying a new stand and dock when they switch to a newer model or different brand," says Petur Olafsson, founder of onanoff. "With twenty different viewing angles, the Dock Minimal can be used while cooking in the kitchen, typing reports, listening to music, drawing with the kids, extending your desktop and do much more."
This isn't onanoff's first rodeo. Just about a year ago, onanoff launched the Sound Cover on Kickstarter and not only reached their funding goal of $25,000, but exceeded it by just about another $6,000. Clearly, Olafsson has proved he has what it takes to bring a product to market.
To learn more about the Dock Minimal or to make a donation and support the project, visit http://bit.ly/DockMinIndie. The Dock Minimal's Indiegogo campaign will end at 11:59PM EST on Sunday, February 24.
About onanoff
Onanoff is a brand of the design and technology company, Nordic Enterprises Ltd., based in Hong Kong. The brand name is a take on the simplest, most essential feature of all electronics: the on and off button. Drawing inspiration from diverse backgrounds and experiences, the creative team focuses on designs that are both distinctive and practical while striving to make products that are simple and essential to daily life. To find out more information on the company, visit http://www.onanoff.com, Follow them on Twitter @onanoff and Like them on Facebook at http://www.facebook.com/onanoff.