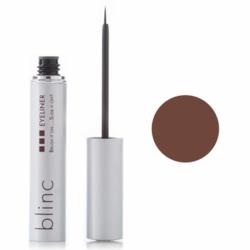 Laura Smith, Esthetician at SkinBeautyMall.com, said, "The blinc Eyeliner (Multiple Color) glides on, and is removed much like a second skin.
Anaheim, California (PRWEB) February 27, 2013
SkinBeautyMall.com, the skin care and makeup web-based retailing giant, has now added blinc Eyeliner (Multiple Color) to their huge collection of product offerings. The e-commerce company focuses on bringing clinically proven, anti-aging discoveries to its customers via their premium skin care beauty products.
With the addition of blinc Eyeliner to its cache of skin care products, SkinBeautyMall.com can present customers with a high quality product that will add more radiance and beauty to their overall appearance. Blinc Eyeliner (Multiple Color) is available in the shades that are most desirable: black, grey, dark blue, and medium brown.
One unique attribute of blinc Eyeliner is its staying power: this eyeliner stays on all day long, until it is purposely removed. The blinc Eyeliner is water resistant, so if there are tears or excess sweat, the liner does not fade or streak. Users can rub their eyes and the liner will not smudge or flake off. In order to remove the blinc Eyeliner, it is peeled off by hand with warm water, the color then sliding off with ease.
The blinc Eyeliner (Multiple Color) creates a water-resistant layer of color on the skin that outlines the eyes and brings the beauty forward. The vibrant look lasts the entire day, even if the eyes are rubbed. It is applied once and then forgotten until bedtime. The blinc Eyeliner is equipped with a very thin brush (not a felt tip), making it simple to apply an accurately straight line. The formula is hypoallergenic and safe for sensitive skin and recommended for contact lens wearers.
No animal byproducts or gluten are used in the manufacturing of blinc Eyeliner and the packaging is reusable and recyclable. A combination of using warm water and gentle peeling pressure with the fingers will remove the blinc Eyeliner with ease. No harsh makeup cleansers or removers are necessary. The eyeliner can be removed with fingers, a washcloth or while showering.
Laura Smith, Esthetician at SkinBeautyMall.com, said, "The blinc Eyeliner (Multiple Color) glides on, and is removed much like a second skin. The "tube" technology consists of an Acrylates Copolymer, similar to the technology used in their mascara, which is also first-rate."
About SkinBeautyMall.com:
The SkinBeautyMall.com skin care and makeup company is both doctor-owned and doctor-operated. The company finds and utilizes the latest science-based technology and proven ingredients; they then choose only the most effective anti-aging ingredients for their products. SkinBeautyMall.com offers a fourteen-day money-back guarantee and also offers a 120% price protection guarantee. Free samples and free esthetician consultations are also offered.