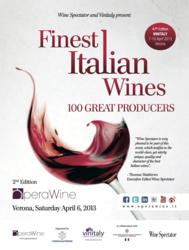 Premier Event to 47th Edition of Vinitaly, 'OperaWine - Finest Italian Wines: 100 Great Producers' commences on April 6 in the very heart of Verona.
Verona (PRWEB) February 15, 2013
What is the result when you put together the Icons of Italian Wines and Vinitaly? OperaWine is the answer: a symphony of 100 remarkable Italian wineries representing each of Italy's 20 Regions.
Vinitaly and Wine Spectator unveil the list of participating producers for the special premier event to the 47th Edition of Vinitaly, OperaWine - Finest Italian Wines: 100 Great Producers http://www.operawine.it. April 6th is the set date and the venue of this special grand tasting is to be held at Gran Guardia, Piazza Brà, in the very heart of town in Verona, Italy.
The complete list of OperaWine – Finest Italian Wines: 100 Great Wineries for 2013 are:

Abbazia di Novacella

Aldo Conterno
Allegrini
Altesino
Argentiera
Argiolas
Arnaldo Caprai
Avignonesi
Barone Ricasoli
Bellavista
Biondi-Santi
Bisol
Braida di Giacomo Bologna
Bruno Giacosa
Ca' del Bosco
Cantina Terlano
Carpineto
Casale del Giglio
Casanova di Neri
Castellare di Castellina
Castello Banfi
Castello di Ama
Castello di Volpaia
Castelluccio
Cecchi
Ceretto
Cesari
Col d'Orcia
Cusumano
Damilano
di Majo Norante
Donnafugata
Drei Donà
Duca di Salaparuta
Ercole Velenosi
Falesco
Fattoria del Cerro
Fattoria di Felsina
Fattoria Zerbina
Ferrari F.lli Lunelli
Feudi di San Gregorio
Folonari
Fontodi
Gaja
Galardi
Giuseppe Mascarello & Figlio
Hofstätter
Il Poggione
Le Macchiole
Leonildo Pieropan
Les Crêtes
Librandi
Livio Felluga
Luciano Sandrone
Lunae Bosoni
Lungarotti
Marchesi Antinori
Marchesi de' Frescobaldi
Marchesi di Barolo
Marco Felluga
Masciarelli
Masi
Mastroberardino
Mastrojanni
Mazzei
Mezzacorona
Michele Chiarlo
Mionetto
Mirafiore
Montevetrano
Nino Negri
Paolo Scavino
Pecchenino
Petrolo
Pio Cesare
Planeta
Prunotto
Renato Ratti
Rocca delle Macie
San Felice
Santa Margherita
Silvio Nardi
Siro Pacenti
Suavia
Tasca d'Almerita
Tedeschi
Tenuta dell'Ornellaia
Tenuta di Biserno
Tenuta San Guido
Tenuta San Leonardo
Tenuta Sette Ponti
Terre Bianche
Terre degli Svevi
Terredora di Paolo
Testamatta - Bibi Graetz
Tommasi
Tormaresca
Umani Ronchi
Valdicava
Vietti
Villa Sandi
Zenato
Zonin
OperaWine is discovering the traditions, identity and heritage of the food and art in Italy, whilst falling in love with Italian wines. Exclusive initiatives related to Italian wine, food and culture is to encourage international operators, journalists, sommeliers, wine educators, and high profile wine aficionados alike to explore the fascinating history and context of Italian wine production.
About:
Wine Spectator is the world's leading authority on wine that reaches more than 3 million readers worldwide, exploring wine's role in contemporary culture and delivering expert reviews of more than 15,000 wines each year. Wine Spectator is solely responsible for the choice of producers at the event.
Veronafiere is the leading organizer of trade shows in Italy including Vinitaly (http://www.vinitaly.com), the largest wine event in the world. In 2012, over 4200 exhibitors showcased their wines to 140,000+ visitors (35% from outside of Italy representing over 120 countries). The 47th Edition of Vinitaly will take place on 7th-10th April 2013 in Verona, Italy. Veronafiere also created the Vinitaly International http://www.vinitalytour.com in 1998 to develop a global platform for the promotion of companies in the Italian wine and food sectors.
# # #