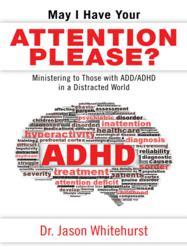 CHESAPEAKE, VA. (PRWEB) February 16, 2013
ADD/ADHD affects between 3 to 5 percent of the population in the United States, according to the National Institute of Health. While it was once thought that ADD was a childhood disorder, it is now believed that for many people, ADD/ADHD continues into adulthood as well.
To address the problem, author/minister Dr. Jason Whitehurst is releasing his first book, May I Have Your Attention Please?, to provide a manual or practical guide for church leaders about how to effectively minister to people in the church who suffer from ADD/ADHD.
"I wanted to write something that was rare and unique," said Whitehurst. "As I was doing research for this project, there was a wide gap in the literature. I literally found no books or journal articles that covered the topic of ADD/ADHD and ministry. "
The book, which started out as his doctorial thesis, is a guide for Christian educators and youth/church leaders who need help understanding what ADD/ADHD is, how to have an awareness of it and, as a result, creating the right environment for worship. Written in two parts, May I Have Your Attention Please? includes medical data, diagnosis, symptoms and statistics about ADD/ADHD as well as practical ministry tips for church leaders.
"From my personal experience, I've found there is little understanding or knowledge among most church leaders about the disease," said Whitehurst. "It's a topic that needs awareness, even in the church setting."
For more information, visit http://www.JasonWhitehurst.net
May I Have Your Attention Please?
By Jason Whitehurst
ISBN: Crossbooks
Price: $13.99
Available in paperback, hardcover and e-book.
About the author:
Jason Whitehurst is a minister to students at Jackson Memorial Baptist Church in Chesapeake, Va. He has earned four degrees: a Bachelor of Science in Biblical Studies, Master of Arts in Religion, Master of Divinity, and Doctor of Ministry.
###