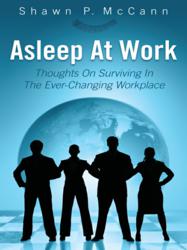 Houston, Texas (PRWEB) February 16, 2013
According to the U.S. Department of Transportation, over 125 million people head off to work in the morning. With their thermoses of coffee, constricting neckties, and eyes trained on the clock, these masses fill the image of being "in the trenches".
Asleep at Work, by Shawn McCann, speaks to these millions who are trapped in the daily grind. From his years as an employee relations manager, McCann has noticed that there is a common air of lethargy that floats often over cubicles, and affects the overall work environment.
McCann says, "Years ago, while having dinner with some friends, I often discussed issues that I had to solve during the day at work and blurted out that 'I feel like people are always sleeping at work and nobody understands what is going on...'"
This revelation led McCann to compile his experiences into a reflective manual that will give others the reins to their work experience. Asleep at Work lays out the skills, attitudes, and tools that employees need for "waking up" and for beginning the revolution in how they work.
Aiming to be motivational, yet grounded, Asleep at Work addresses the ubiquitous disconnect between laymen and administrators, as well as corporate denial that infiltrates every level, and shows employees of every level how to revitalize their workday, every day, all day—so that they don't spend their days in a daze.
Asleep at Work: Thoughts on Surviving in the Ever-Changing Workplace
By: Shawn McCann
ISBN: 978-1-4525-6359-6
Paperback: $13.99
E-book (Nook, Kindle, I-Book): $3.99
Available at http://www.amazon.com and http://www.barnesandnoble.com .
About the author
Shawn McCann is owner of McCann Consulting and currently works as an Employee Relations Manager in the Texas Medical Center in Houston, TX, a renowned and international hub for medicine and research. Prior to this position, he was a Labor and Employee Relations Manager working at NASA's Johnson Space Center. Considered an expert in Organizational Effectiveness, Shawn has over 12 years of experience leading and managing employee relations initiatives with various companies and organizations. Shawn is also a former Adjunct Professor of Sociology at the University of Houston Clear Lake Campus, Houston Community College System and most recently College of the Mainland in Texas City Texas. He has been a featured speaker at various conferences and seminars throughout the State of Texas and has conducted extensive research in the areas of Human and Industrial Relations. He has published various articles from which his ideas have been practiced and implemented by various companies that employed him. Shawn received a Bachelor's Degree from Texas Southern University and a Master's Degree in Behavioral Science from The University of Houston Clear Lake. He and his wife Sara reside in Houston with their children.
###