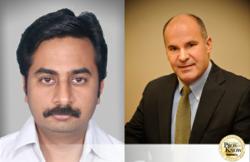 After all is said, People, Process and Technology remains the key enablers to success.
-Unni Vasudev
Dayton, OH (PRWEB) February 14, 2013
Supply & Demand Chain Executive magazine, an international B2B publication that provides mission-critical editorial to address the issues and challenges of the supply chain, today announced the names of its 2013 "Pros to Know" awards winners – two of them being Patrick Reymann, Director, Strategic Sourcing Operations; and Unni Vasudev, Vice President, Supply Chain Services; both of Corbus, LLC.
Honoring the supply chain's best and brightest, Supply & Demand Chain Executive's "Pros to Know" include professionals proactively working to improve their business's functions in a number of categories—including manufacturing and production output; procurement; logistics; risk mitigation strategies; sourcing; financial operations; packaging and distribution; transportation; and much more. The publication's editorial selection committee reviewed close to 400 entries to find the applicants that best fit the criteria.
One of those applicants to receive this award is Patrick Reymann. Patrick has a rich history of developing and delivering innovative Spend Management programs to both Fortune 500 and Federal sector clients. His colleagues view him as a Supply Chain Subject Matter Expert with specialties in such disciplines as Strategic Sourcing, Spend Analytics and Process Improvement techniques. "It is a great honor to be recognized by Supply & Demand Chain Executive," stated Patrick. "I'm fortunate to have been exposed to so many talented supply chain leaders and innovative organizations throughout my tenure in this industry. The supply chain industry is always uncovering new challenges, so leveraging leading practices in support of our clients' strategic issues is particularly satisfying."
Unni Vasudev was also chosen as a Pro to Know. Unni is a strong supply chain professional with an extreme passion for the procurement industry. He has implemented several Source-to-Pay (S2P) solutions for various customers that have presented value in terms of Quality, Cost, Delivery and Compliance to Corbus' customers. Corbus' clients seek Unni's counsel and expertise to implement the procurement outsourcing business models needed to advance their organizations. "I'm honored to receive the award of Pro to Know in this industry," said Unni. "The realization that there is value beyond just cost savings is creating a need to transform supply chain organizations. The focus of the future is to think about organizational efficiencies over and above sourcing and procurement efficiencies. After all is said, People, Process and Technology remains the key enablers to success."
Now in its 13th year, the Supply & Demand Chain Executive "Pros to Know" awards recognize both ends of the supply chain. This includes honoring the "providers," which includes individuals from software firms, service providers, consultancies or academia who helped their supply chain clients or the supply chain community prepare to meet industry challenges. This also includes honoring the "practitioners," e.g., those supply chain executives who demonstrated leadership by managing risk in the supply chain; provided competitive advantage; and delivered value to the bottom line.
The full list of 2013 "Pros to Know" awards winners will be available February 14th on http://www.sdcexec.com. The expanded awards coverage and winners list will appear in the March 2013 issue of Supply & Demand Chain Executive magazine and online thereafter.
Corbus, LLC
Corbus, LLC, a global solutions provider founded in 1994, offers superior services combining years of experience, solid partnerships and adaptability. Corbus' solution offering includes Information Technology and Sourcing and Procurement services. Corbus creates technology-empowered solutions with industry leading processes and technologies that deliver business value to global clients through year-on-year savings and are known for the ability to work in true partnership with clients to innovate and bring cost reduction along with enhanced product quality. With competitive positioning and complete transparency, Corbus and clients together achieve success. For more information, visit http://www.corbus.com.
Corbus is a global organization, headquartered in North America with presence in Europe and Asia Pacific markets. Corbus is a wholly owned subsidiary of Soin International LLC, a private multi-national holding company that provides strategic management, administrative systems, and financial support to a diverse array of worldwide subsidiaries and affiliates.
Supply & Demand Chain Executive
Supply & Demand Chain Executive is the executive's user manual for successful supply and demand chain transformation, utilizing hard-hitting analysis, viewpoints and unbiased case studies to steer executives and supply management professionals through the complicated, yet critical, world of supply and demand chain enablement to gain competitive advantage. Supply & Demand Chain Executive is a publication of Cygnus Business Media. Visit us on the Web at http://www.SDCExec.com and on smart phones and tablets at http://www.SDCExec.com/mobile.