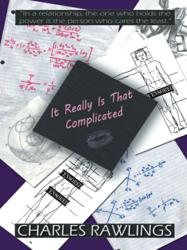 The one who holds the power is the person who cares the least.
CHARLOTTE, N.C. (PRWEB) February 16, 2013
Man meets woman. Man woos woman. Man and woman fall in love. Happily ever after? Probably not!
It Really Is That Complicated, the name of a penetratingly real book examining the fallacies of relationships as well as the real world state of affairs that describes the interaction of couples- real or imagined. There comes a time when the veil of mystery, the fog of ennui must be stripped away from the truth, in this case, the truth about male and female relationships. In his new book, It Really Is That Complicated, Charles Rawlings does just that; in 10 short chapters he deconstructs male/female relationships and portrays them in their true light, as seen and experienced by a mature male.
Rawlings maintains that there is a natural conflict that almost always develops organically between men and women once they enter into a relationship. This conflict, signified by miscommunication, arguments, and general unhappiness, is characterized by struggles for power, lack of physical intimacy, and magnified by the inevitability of life and its travails. Interestingly, however, just when the discussion turns bleakest, the book offers a glimpse of optimism, so long as the reader knows themselves and is able to throw off the mantle of the ordinary and seek that which is extraordinary.
There are multiple attitudes that both men and women can take when it comes to romantic involvement, both positive and negative.
"In a relationship, the one who holds the power is the person who cares the least," Rawlings says; and this truism can be recognized at every level of any type of relationship.
This reflection, along with many others in It Really Is That Complicated, will help individuals deal with the twenty-first century's drastic developments in the way that humans pair off. Rawlings' book accompanies this evolution with a commentary that affirms the canyons of difference between men and women; it offers a realistic take on what relationships have to offer us, how mature males view relationships, and what we, as individuals, can do to help ourselves to live life to the fullest, thus enhancing all our relationships.
For more information, please go to http://www.itreallyisthatcomplicatedbook.com or http://www.charlesrawlings.com .
It Really Is That Complicated
By: Charles Rawlings
ISBN: 978-1-4772-8526-8 Paperback: $14.95
Available at http://www.amazon.com.
About the author
Charles Rawlings already had a career as a prominent neurosurgeon before choosing to pursue the intellectual challenge of becoming a lawyer. Following law school, he established the Rawlings Law Firm in Winston-Salem, North Carolina; a firm whose clients are primarily patients injured by medical malpractice. His writings as a neurosurgeon have been published in many medical journals, and he has also received further recognition in the field of law. In addition, Rawlings is an award-winning underwater photographer and conducts scientific exploratory expeditions, of which he has been on over fifty. Moreover, he is an internationally acclaimed author whose first book won the London Book Festival in the Art/Photography category, along with many other honors. It Really Is That Complicated is his second book.
###