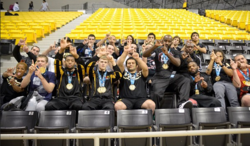 We have big ambitions for 2013 and will be working hard to keep improving
Maryland (PRWEB) February 16, 2013
Lloyd Irvin ended a four-year absence from Brazilian Jiu-Jitsu competition by winning a gold medal at the recent No-Gi World Championships in Long Beach, California – an event where his team picked up a total of 12 gold medals, with DJ Jackson becoming it's first adult black belt world champion.
Competing in the Senior 1 Super Heavy Black Belt Division, Lloyd was delighted to be back on the winning podium.
He says:
"Our team had built up big expectations ahead of the No-Gi Worlds and I thought throwing my hat into the ring with them and telling them I was going to get back in shape and ready to battle alongside them would be very motivational. The team result was fantastic and my own gold medal was the icing on the cake."
After a four-year layoff from competition, at age 43, Lloyd had to lose 31 pounds in less than five months, while stepping up his training, to achieve the result.
Some 600 competitors from around the world took part in the IBJJF No-Gi World Championships at Long Beach, California in November 2012 and Team Lloyd Irvin took second place overall scoring 80 team points – only 2 behind eventual winners Alliance. Their medal haul was 12 gold medals, three silver and seven bronze.
Alongside Lloyd's success, another highlight was DJ Jackson becoming the team's first adult black belt world champion.
Lloyd comments:
"DJ has shown tremendous commitment and consistency to achieve this result. When he started out, I told him what it would take to achieve his goal and he won the No-Gi Worlds at blue belt, purple belt and brown belt. This year he won the No-Gi Worlds at black belt. That's four years consecutively. He did it, he made history and we are very proud."
DJ adds:
"I feel great about winning. It's been four years of hard work and training. When I started training my goal was always to be a black belt world champion but, now that I've achieved that, the grind isn't over. You've always got to get back and get ready for the next big tournament coming up."
Coach Irvin explains that the success of the team is based on people working together and showing commitment as they work through the different levels. Many of the most successful competitors started with the team as white belts while others have reached out to join the team having seen the success it has achieved.
He adds:
"I was very happy with the team's overall performance and we achieved great success across different belts and genders. We can always improve more and we will be working hard to make sure that happens. We have big ambitions for the 2013 season with many of the team chasing gold at various levels."
He also points out that the majority of his school's students don't choose to compete. It has a full-blown curriculum from beginners through intermediates to enthusiasts who have no aspirations to compete.
Lloyd Irvin Mixed Martial Arts offers mixed martial arts training in the Maryland, DC and Virginia areas. It caters to the various techniques of Brazilian Jiu-Jitsu, Muay Thai Kickboxing and Mixed Martial Arts. It offers programs specially designed for kids - including After School and Summer Camp programs - plus women-only classes such as the Women's Fitness Bootcamp.