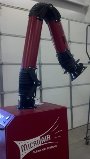 The re-design of the Micro Air Source Capture Arm will improve airflow, and increase maneuverability.
Somers, CT (PRWEB) February 20, 2013
Micro Air's new fume extraction arm is redesigned and offers better functionality for the consumer. The new arm will be available in multiple sizes and diameters.
The arm will be available in a 8' and 10' length and a 6" and 8" diameter.
The new source capture arm, that can be mounted on a portable dust collector or ducted to a centralized dust collection system, features durable joints, better hood design, and more maneuverability.
Fume Extraction Arms are used frequently in the welding and fabrication industry. Welders and fabricators like the source capture arm because it is easy to manipulate and does not get in the way.
Customers can request specific options for their arms which include light kits, mounting brackets and exhaust systems.
The TM1000 is a portable unit that features this new fume extraction arm. This unit features two (2) filters, two (2) dust trays, and the ability to add a module of carbon for odors.
The Micro Air TM1000 also utilizes reverse-pulse technology that extends the life of a filter and requires minimal compressed air.
The unit can be rolled around on casters and can be plugged in to most outlets. It comes pre-wired for 120V, but can be changed based on power requirements.
Aquest Corporation is the New England leader in industrial air filtration and the New England representative for Micro Air equipment.
Manufacturers and metal fabrication shops should always exercise extreme caution when welding stainless steel. Hexavalent Chromium is not only a risk to employees' health, but required by OSHA to ventilate.
The new fume extraction arm has the ability to mount a motor/blower to the top of the arm using a gusset and direct the air outside of the facility.
If there are negative air issues in a facility, Aquest can design a system to remove smoke and fumes from the airstream, using a cartridge collector, and return clean air back inside the building.
For all inquiries regarding the new Micro Air Fume Extraction Arm and any other air filtration needs, please consult Aquest Corporation, Somers, CT, 860-749-3938.