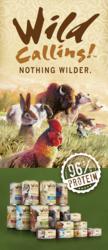 Greeley, CO (PRWEB) February 18, 2013
10 varieties of canned Wild Calling!™ Dog Food and 8 varieties of Wild Calling!™ Cat Food all are priced well under $2.99. The 96% protein inside is nutritionally balanced and a complete recipe for healthy pets.
The colorful product labels are designed to speak volumes about what's inside. Vibrant illustrations depict exactly what concentrated protein product is in the entree, ranging from rabbit to pheasant to bison. Original illustrations show the animals on the cans in masterful portrait views, and those likenesses will be on point of sale materials and in consumer advertising as well.
In all, there are nine animals in the limited ingredient Wild Calling!™ array, all cans proudly produced in the USA.
According to Tim Petersen, the first distributor of all natural pet food products back in the 90's, and an expert on matters related to pet health: "This is rich natural goodness for your pet's well being and quality of life. It's premium pet food at a palatable price!"
---
Wild Calling!™ Pet Foods (http://www.wildcalling.com) is a US manufacturer of premium dog and cat foods. Founded in 2012 and based in Greeley, CO, the company is family owned and operated.
The Petersen's family has had vast experience in the natural pet food industry, having been pioneering distributors in the Western United States of natural pet foods and selling in over 2000 different SKUs of various pet foods from the 1990s to today.
Further expanding their role in the pet industry, Wild Calling!™ marks the family's foray into the development and manufacturing of quality food for pets. Tim Petersen, the company's owner, says Wild Calling!™ has a special meaning to his family, being a reference about his family's own calling to provide excellent-quality, reasonably priced premium pet food to the marketplace.