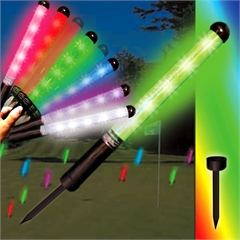 Chicago, IL (PRWEB) February 15, 2013
Night golf has been growing in popularity over the years and is being taken to the next level in the video game world. Recently announced, the Tiger Woods PGA Tour 14 video game will be featuring night golf as well as women players in honor of the Ladies Professional Golf Association for the first time in franchise history. Also featured will be over 20 professional players like legends Arnold Palmer, Tiger Woods and Jack Nicklaus at historical events dating back to 1934 in all 4 major tournaments. The game will be released in the US on March 26th and will be made available for Xbox 360 and PS3.
With the popularity of night golf growing among golfers over the past few years, golf courses have been taking advantage of the later non-peak hours; thus gaining more revenue and more golfers. Windy City Novelties has been helping these courses set up for the night tee time with their night golf supplies since the fad started.
From LED's for the green to the LED bar glasses at the 19th hole, it's all covered. Each hole will be in need of its own equipment; yardage markers, tee box markers, target hoop, flag marker, pin illuminator and of course for the golfers themselves, the light up golf balls. All of these items are LED and come in various colors. The different colored ground steaks and yardage markers help golfer's judge direction and distance to the hole.
The 19th hole barware is a favorite to many, especially after some night golf. Many bars right off the green have been taking advantage of the LED theme with their drink ware and bar accessories, i.e. serving trays, cocktail stirrers, ice cubes and coasters. For country clubs that have bars on site, night golf has been helping bring in the large revenue through game and drink.
ABOUT WINDY CITY NOVELTIES
Windy City Novelties, a party supply company founded in 1983, is known for their great selection and competitively priced items. They have an A+ rating from the Better Business Bureau and are also a NexTag 5 star Seller. From their website, windycitynovelties.com, they offer fast and friendly shipping along with great customer service. From glow sticks in every color of the rainbow, to party decorations in a variety of themes, and even a vast selection of Halloween costumes at the best prices, Windy City Novelties has over 15,000 products and adds more each week. Windy City Novelties also provides party and gift ideas and advice. For help or more suggestions, email our experts.