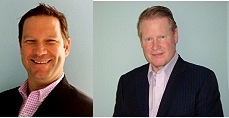 "Healthper is innovative, and I see us breaking new ground in the health care and wellness industries."
Princeton, NJ (PRWEB) February 15, 2013
Healthper, Inc., a leader in gamification and social wellness has recently announced that both Darin Moore and Kevin Howat have joined their team as VP of Sales and SVP of Business Development, respectively. "Healthper could not be more excited about our new additions and how they will impact our growth opportunities. Both Darin and Kevin bring unique and exciting qualities to Healthper, and we look forward to utilizing their individual expertise within our group," said David Lenihan, Chairman and CEO of Healthper, Inc.
Mr. Moore brings with him over 15 years of Technology Sales experience in the human resources, incentive and wellness industries. His solid record of sales growth and his ingenious ability to unearth innovative channels has established him as a leader in both small and large organizations, particularly start-ups. "I am revitalized," said Moore when asked about joining Healthper. "Healthper is innovative, and I see us breaking new ground in the health care and wellness industries." Darin's down-to-earth demeanor and knowledge of everything "incentive" defines his business success. He spent nine years in various senior sales positions at IncentOne, most recently with Madison Performance Group. Darin joined Healthper full time in November as the Vice President of Sales.
Furthermore, Healthper is eager to introduce Kevin Howat, who will act as Senior Vice President of Business Development. When asked about his new role at Healthper, Mr. Howat explained enthusiastically, "I am excited for this opportunity to join a seasoned group of industry veterans who have a solid track record of success in building companies and bringing their investors a strong return. Moreover, the extensible and configurable technology platform they've developed enables an array of solutions to support the business needs of direct clients and strategic distribution partners alike."
About Healthper
Healthper is an innovative health engagement platform, founded in 2010 and developed by the team from CareGain that helped to facilitate Health Savings Accounts (HSA). Healthper helps drive sustainable long-term behavioral changes through its enterprise-ready, social health engagement platform. Moreover, Healthper can increase participation and improve health outcomes by making health & wellness fun, social and rewarding. Organizations may configure or create a wellness solution tailored to their population needs with aggregated real-time data reporting and measurable outcomes. The solution promotes adherence through compliance schedules that are rules driven and operate on member data. Healthper is a privately held company based in Princeton, NJ. For more information, please visit:http://www.healthper.com or follow us on twitter @healthper