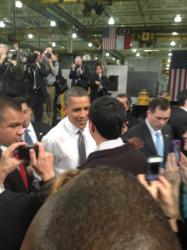 A-B Tech and Linamar worked together to do something that is really smart.
Asheville, NC (PRWEB) February 16, 2013
President Barack Obama touted Asheville-Buncombe Technical Community College for providing relevant training to students during his stop at Linamar in Arden on Wednesday.
A-B Tech started working with Linamar a few years ago to provide two types of training for the company, according to Shelley White, Senior Executive Director of Economic and Workforce Development/Continuing Education at A-B Tech.
"We do open enrollment technical skills training such as machining, forklift operator and welding. Those classes help prepare students to gain employment with the company. Then we have customized training where we develop training solutions to meet their business needs," she said.
Obama praised customized training partnership at the College. "A-B Tech and Linamar worked together to do something that is really smart. Rather than have kids just – or in some cases not kids, older workers – show up and they're taking a bunch of classes but they don't know how this is directly going to lead to a job, what you do is customize the class to train people so they can come and work at the plant and they're getting experience that's directly applicable to what's being done here at the job," he said.
A-B Tech has several partnerships with industry, each customized to meet the needs of that company. "We have great curriculum, continuing education and customized training partnerships with Eaton, Kearfott, AvL Technologies and so many others," said White.
"That's good for the community. It's good for Linamar, because they're getting workers who they know can do the job. It's good for the folks who are going to the community college, because they know if they work hard and they do well in the class there's a job waiting for them. It's good for the economy as a whole," Obama said.
Cindy Hamilton, Director of Economic and Workforce Development, was at Linamar with White when Obama spoke. "The part I love is how he highlighted the customized training, meaning the specialized training meets the needs of that particular industry. It was a highlight to the community college system and A-B Tech in particular on how well we are able to customize training to each individual business - large or small. The College is very responsive to the needs of industry," she said.
During the State of the Union address on Tuesday, Obama mentioned 3D printers as a sign of advanced technology. A-B Tech has trained students on the design software and the printer itself for the past few years, according to White. "Some of the other advanced technology skills in manufacturing offered at A-B Tech beyond the CNC machining include CNC plasma cutting, hydraulic and pneumatic trainers for mechanical engineering, robotic trainers and robotic welding," she said.
Obama singled out Linamar employee Jeff Brower who had been laid off as a diesel mechanic. "He went to A-B Technology, took a class in automated machining. A few months ago, Jeff got his diploma. He graduated on a Wednesday, interviewed at this plant on Thursday. By Friday, he was working as a machine operator," he said.
"We are honored the President recognized the College as a national model of a successful partnership between higher education and industry. This exposure will benefit our students and the community as it brings attention to the technical training and jobs in advanced manufacturing that are available," White said.