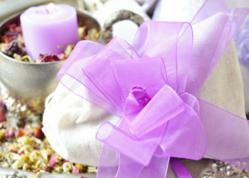 "Always Lavender's Sweet Dreams Herbal Bath Bag helped me relax and fall asleep the first time I used it. It was amazing!"
(PRWEB) February 16, 2013
Herbal healing has been tried and true for centuries. The power of herbs is why the human race still exists. Ancient civilizations utilized herbs for healing wounds, relaxation, and cleansing.
The power of herbs is what kept ancient civilizations healthy and alive. The human race may have evolved to modern day medicine but the power of herbs is still effective!
Always Lavender's online shop offers people the leading event in herbal relaxation and healing. Herbal bath bags are a way to receive the healing properties of herbs without all of the mess.
Every herb has healing properties which have been researched and utilized throughout the years to help aid people with their mental and physical ailments.
There are a variety of herbs out there that some people may not know about which could be a cost friendly way to help heal common problems such as, headaches, insomnia, anxiety, rashes, cuts, skin irritations, and stress.
Many herbs provide strong fragrances which can pleasure the brain and cause stress to disappear.
Anxiety and stress plague the world because of the never stopping cycle of being on the go 24/7. Mental illness can lead to physical illness, so take the time to stop and smell the 'flowers'. Learn more about herbs at http://www.alwayslavender.com.
Brand new to the online scene, Always Lavender offers herbal bath bags and relaxation at a cost friendly price.
Always Lavender is a small family owned business. We call ourselves Always Lavender, as lavender is found in many of our products because it is a super- powered herb that has countless healing properties! We support local business and we are located in the Tampa Bay area of sunny Florida. Our ultimate goal is to provide peace and relaxation to our customers through our all natural herbal bath bag blends. For more information or questions contact us at info(at)alwayslavender(dot)com.