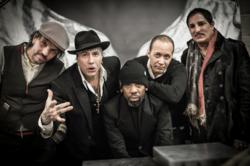 "Secret Society, the new book ... currently on the whispered lips of everyone in the art, fashion and entertainment industries." - Malcom Harris
New York, NY (PRWEB) February 19, 2013
Nur Khan, Serge Becker, Steven Lewis, and Simonez Wolf, along with publisher Patrice Farameh co-hosted a private reception for Christian Alexander for his new art publication Secret Society: Modern Speakeasy Style and Design at the Nordstrom-owned charity venture treasure&bond during New York Fashion Week.
"We are honored to collaborate with such a fashionable lifestyle retail concept like treasure&bond, particularly since we are a New York based company and strongly supportive of Nordstrom's concept to funnel one hundred percent of its profits to locally based charities in the city," says Patrice Farameh, publisher and founder of Farameh Media.
Secret Society is a beautifully illustrated book edited by Christian Alexander that features over 60 modern speakeasies in New York, Los Angeles, Paris, London, Tokyo, Berlin and other major metropolitan cities across the globe. Over 20 personal stories are revealed by elite nightlife impresarios, including Amy Sacco, Richie Akiva, André Saraiva, Mazdack Rassi, Serge Becker, Nur Khan, Mark Baker, Tim Kash, Charaf Tajer, Steven Lewis, Simonez Wolf and Simon Hammerstein. These in-depth interviews take the reader on an intriguing journey into an alluring underground culture admitting only the most discerning, daring, and in-the-know nightlife connoisseur.
Farameh Media is a New York based publishing house specializing in highly curated art and design publications. Spearheaded by founder Patrice Farameh, an expert in luxury and lifestyle book production, Farameh Media conceives, designs, produces and publishes books with a team of imaginative and forward-thinking talent that can translate any lifestyle concept or brand into a wide range of mediums. The company also launched recently FOR WHICH IT STANDS: Americana in Contemporary Art and is recognized for its limited edition art books that are sought after by international collectors.
treasure&bond is Nordstrom's independently-operated New York City-based retail venture which was initially conceived during a telephone conversation between Vogue Editor in-Chief Anna Wintour and Nordstrom's president of merchandising, Pete Nordstrom. One hundred percent of its profits fund a rotating selection of nonprofit organizations in New York City assisting children in need. The store's product mix differs from Nordstrom's usual offerings because its brands are not as widely distributed and many are exclusive to treasure&bond.
Christian Alexander is a noted arbiter of nightlife culture, with over twenty years of experience as an exclusive concierge for A-List celebs. As the NY Post describes, "His phone number is passed around the country like the password to a secret club for the mega-cool." His family has ties that go back to Chicago's Prohibition era, and many of his relatives have had careers in the entertainment industry.