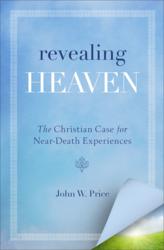 "Price has written a marvelous book...to help steer the Christian viewpoint into alignment with the knowing that so many share today: we are so much more than our physical bodies."— Eben Alexander, M.D., author of PROOF OF HEAVEN
San Francisco, CA (PRWEB) February 15, 2013
The topic of the afterlife is one that is frequently discussed and debated, and yet many Christians remain uncomfortable with Near-Death Experiences (NDEs), unsure if the concept is in line with their Christian faith, and unaware of resources within the church that offer guidance.
In REVEALING HEAVEN: The Christian Case for Near-Death Experiences (HarperOne; February 2013), the Reverend John W. Price, a longtime Episcopal priest and member of the Near-Death Experience Research Foundation, tackles a subject that has been long-ignored by clergy. For the first time, Price offers a pastoral perspective on NDEs, illustrates how they can be used as both a ministry tool and a catalyst for personal spiritual development, and explains why we should see them as gifts from God.
Beginning with a life-changing experience as a young National Guard chaplain, and offering numerous examples from the over 200 Near-Death Experiences related to him in his 40+ years of church service, Price offers some surprising and hopeful lessons for Christians struggling with issues relating to death and grief:

One does not need to be baptized a Christian to go to heaven. Anyone who lives a good life and practices kindness—Christians, Jews, Muslims, Buddhists, Hindus, etc—can experience heaven.
Sins we commit in life are forgivable even in death.
God has a plan for all of us, including a specific "time" for each of us to continue our lives in heaven.
Hearing these NDEs has been shown to offer tremendous comfort to those facing the end of life, helping ease their fear.
In REVEALING HEAVEN, Price offers a compilation of experiences by "returnees" along with biblical evidence to contend that NDEs are both valid and fully consistent with Scripture. A resource for a Christian audience looking for answers about life and death, this book will also appeal to anyone seeking a greater understanding of what the afterlife means for us in the here-and-now.