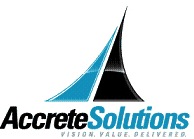 "We believe with the combination of our Process Alignment Models and Mobility platform we can assist customers in gaining tangible returns in a few weeks, not the typical months or years." – Albert Kleynhans, Director Accrete Solutions
Santa Clara, CA (PRWEB) February 22, 2013
Accrete Solutions, based in the San Francisco Bay Area, is a highly focused process optimization and system integration firm, with unique skills in process transformation around applications such as SAP CRM and will be rolling out a range of new Customer and Field Service Solutions, including tablet-based Mobility Solutions, at the SAPinsider CRM 2013 conference.
The event takes place at the Mirage Hotel and Casino in Las Vegas, March 5-8, 2013. SAPinsider CRM 2013 is the flagship event for professionals that use and support SAP solutions for customer & field service, sales, marketing and web-channel solutions. This will be the first SAPinsider event on the west coast in five years, attracting more of SAP's western United States clients, after the venue changed from Orlando, Florida.
The company will have a team of highly knowledgeable practitioners onsite to demonstrate a range of CRM Mobility and Service Solutions including topics such as Field Service, Self Service, Installed Base Management, Safety Inspections, Customer Surveys and more.
Accrete Solutions, in partnership with Embark Mobile, will be introducing the Journey platform, allowing companies to create enterprise mobility solutions by focusing on their business processes rather than the technical details of development. Using this approach, solutions are delivered in a fraction of the time traditionally required, enabling faster go-to-market and more control and agility when dealing with CRM service.
Visit Accrete Solutions at Booth (#360) in the Solutions Showcase Exhibition Hall throughout the conference and don't miss the live hands-on demonstrations highlighting Customer Relationship Management services and Mobility solutions.
About SAPinsider CRM 2013
SAPinsider CRM 2013 conference arms attendees with the practical information they need to make the most of their investment with SAP customer relationship management services. Attendees can expect to receive techniques and best practices for improving both marketing and sales campaigns using SAP CRM, along with receiving the most unique access to top SAP CRM experts and customers in the industry.
To learn more about this event and to register, Visit http://www.CRM2013.com
About Embark Mobile
Embark Mobile makes it effortless to create, manage and maintain enterprise mobile applications. Thousands of people use Embark solutions on a daily basis in sectors such as financial services, field service and health care.
Learn more about Embark Mobile, Visit http://www.embarkmobile.com
About Accrete Solutions
Accrete Solutions specializes in customer-facing sales and service solutions, assisting companies of all sizes to develop strategies, improve processes, and to design and deploy solutions with their CRM service. Accrete offers deep experience with regard to Service Solutions, CRM, Process Integration and Field Mobility experience.
Learn more about Accrete Solutions, their experience, and service offerings, Visit http://www.accrete-solutions.com