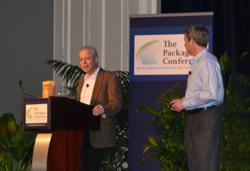 Marlton, NJ (PRWEB) February 21, 2013
The event, billed as the event "where business opportunities and technology meet," was host to some of the most respected and diverse organizations in the packaging industry with more than 300 individuals in attendance.
The well-attended Zipbox presentation by speakers Neil Kozarsky, an industry visionary and president of T.H.E.M., and Frank Kelly from technology partner, Zip-Pak/Illinois Tool Works Inc. (ITW) featured recent consumer research findings and an overview of the unique technology, scalability and manufacturing process. Also included was a report on the initial consumer application, Plantation Brand Sugar that highlighted marketplace results and comparative economics.
"The audience reaction to the significant opportunities represented by Zipbox exceeded our expectations," stated Neil Kozarsky "Judging by the response we received, it's clear that many of those in attendance were hungry for innovative turnkey solutions that consumers prefer, especially ones that are market ready. They recognized the potential of Zipbox."
Zipbox packaging incorporates the consumer-preferred attributes of flexible and rigid packaging into an exclusive combination of materials that is both value adding and consumer-intuitive. It offers an ideal solution to the long-standing consumer need for packaging that reseals easily and maintains product freshness after opening.
"The T.H.E.M. and Zip-Pak/ITW collaboration has resulted in an innovative packaging solution that provides outstanding advantages and benefits to consumer product companies and their customers," said Zip-Pak/ITW's Frank Kelly, "We were honored to have had the opportunity to present the Zipbox story, and extremely pleased with the reaction it received."
####
About T.H.E.M.
T.H.E.M. (Technical Help in Engineering and Marketing) was founded in 1973 as one of the first providers of innovative packaging solutions in North America. The company is best known for commercializing Sanko Stick Packaging in the United States. Working in conjunction with select packaging and equipment manufacturers, T.H.E.M. offers a comprehensive array of packaging solutions designed to take brands from initial concept to full-scale national or global production. T.H.E.M. has a fully operational, on-site R&D center located at its Marlton, New Jersey headquarters, with pilot production to scale-up capabilities.
For more information on T.H.E.M.'s flexible packaging machinery and contract manufacturing services, please visit: http://www.them.net
About Zip-Pak
Zip-Pak, a division of Illinois Tool Works, Inc. (ITW), is a global leader in re-sealable packaging innovations. The company helps consumer product companies build brand preference through convenient, brand-differentiating packaging that preserves product freshness. Zip-Pak produces zipper applicators and technologies to serve original equipment manufacturers, converters, and packagers worldwide. Zip-Pak has headquarters in Manteno, Illinois and operates six world-class production facilities strategically located around the globe.
For more information about Zip-Pak's packaging innovations and zipper applicators and technologies, please visit: http://www.zippak.com
For more press information, please contact:
Ed Delia, President
Delia Associates
T: 908-534-9044
E: edelia(at)delianet(dot)com