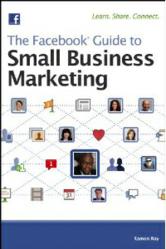 Facebook gives small business BIG opportunities to reach more customers and keep the ones you have.
New York, NY (PRWEB) February 15, 2013
Facebook helps small business owners grow their businesses, attract new customers and build long term relationships with social media engagement.
Ramon Ray, marketing and technology evangelist, Infusionsoft and Smallbiztechnology.com today announced the release of his third book, The Facebook® Guide to Small Business Marketing (Wiley, 978-0-470-87520-9, February 2013, US $19.99), a complete guide for small business professionals to learn new ways to attract customers, create a business profile and take advantage of social media and in particular - Facebook's many marketing features.
Details - http://bit.ly/facebookmarketingbook
Packed with insider tips and proven best practices, this book will help any small business and entrepreneur harness the worldwide marketing potential of Facebook.
Marketers are projected to spend $4.4 billion on social media advertising by 2016 according to Forrester Research. While paid advertising is booming, so is the free advertising that comes from having a well-maintained and frequently updated business profile on Facebook. With more than 1 billion registered users, Facebook opens a worldwide forum for small businesses that were once dependent only on local traffic. The Facebook® Guide to Small Business Marketing guides readers through everything from creating a business profile, to using Facebook's unique marketing features and following best practices to achieve the best return on investment. Using familiar design elements from the Facebook site and clear direction, this must-have guide is packed with tips and creative marketing ideas gathered from exclusive access to Facebook insiders.
For anyone with a small or local business, this is the essential guide to learn how to attract customers using Facebook. The Facebook® Guide to Small Business Marketing is now available for purchase online and at retailers nationwide in both print and all e-book formats.
Those who buy the book on February 19th, the official launch of the book, will receive a digital 'Goody Bag' of gifts. See the details here - http://www.smallbiztechnology.com/facebookmarketing
About Ramon Ray
Ramon Ray is editor & technology evangelist of Smallbiztechnology.com and Regional Development Director NY/NJ Infusionsoft . He is passionate about helping small businesses grow their businesses using technology as a strategic asset.
Ramon is a journalist, freelance writer, event producer (Small Business Summit, Small Business Technology Tour, and Small Business Influencer Awards), speaker and author.
The Facebook® Guide to Small Business Marketing , (Wiley, February 2013) is the third resource book he's authored to help small businesses GROW and Succeed.