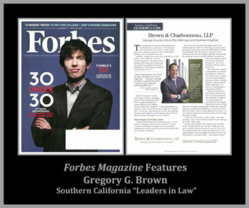 Irvine, CA. (PRWEB) February 21, 2013
Gregory G. Brown, a Certified Trial Specialist has been featured in Forbes Magazine's January 2013 issue in "Southern California Leaders in Law." Brown, a senior parter with Irvine's Brown & Charbonneau,LLP, was the only OC business litigation attorney featured in the section. Brown's impressive record of success includes awards and settlements in excess of $80,000,000. He obtained a confidential 8 figure settlement (over $10,000,000) for his client in a 4-year estate, business and family law battle over issues related to a $175,000,000 company (case confidential). Brown also successfully defended a Fortune 500 company in a $50 million business fraud and contract claim, which included significant punitive damage exposure. Brown's most recent jury trial involved the representation of Real Housewives of Orange County star, Gretchen Rossi, in her claims against an individual for stalking, infliction of emotional distress, assault and conversion. Brown obtained a significant jury verdict of $523,000 in favor of Rossi (including punitive damages) OCSC Case No 30-2010-00393514, a result that garnered a great deal of media attention.
Forbes recognized Brown for his outstanding achievements in litigation, highlighting a notable case in which Brown defended an injection mold manufacturer. During the trial, Brown turned the tables of what appeared to be a "slam dunk" case for the plaintiff and prevailed. Based on the outcome of the case, the losing party hired Brown as their trial counsel for all their business litigation matters. "My company and I wouldn't think of using anybody else. Greg's got a real gift, an ability to present his side of a case in a very clean and understandable way, without any distortions or misrepresentations. Plus, he's highly principled, extremely detail oriented, a very hard worker – and a really nice guy!" says Andrew Peykoff, Sr. of Niagara Bottling, LLC, a multi-billion dollar nationwide manufacturer of bottled water.
When it comes to civil trials and lawsuits, Brown has developed a well-earned reputation for finding solutions to complex litigation problems. Brown & Charbonneau, LLP's attorneys are hands-on, hard-hitting advocates for their clients. As experienced trial lawyers, they listen to their clients, understand their goals, and get results.
In addition to Forbes, Brown has received many awards and accolades: Top 100 Trial Lawyers in US by National Trial Lawyers Association, Super Lawyers (top 5%), the highest possible "AV Rating" by Martindale, a 10/10 "Superb" rating by AVVO, Top Attorneys in Southern California by Los Angeles Magazine, Top Orange County Business Attorney by OC Metro Magazine, Attorney of the Year by Rocket Lawyer, Top Attorneys in Orange County by Orange Coast Magazine, member Multi-Million Dollar Advocates Forum and Bar Register of Preeminent Lawyers by Lexis/Nexis.