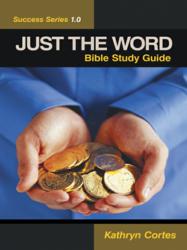 Waco, TX (PRWEB) February 18, 2013
"Many of today's problems can be solved by application of God's word," says author Kathryn Cortes.
Her new novel, Just the Word – Success Series 1.0, is the ultimate Bible study guide that profiles single words pertaining to success across the entire Word of God, from Genesis to Revelation, to reveal a comprehensive view of each topic.
The included topics are success, prosperity, wealth, gold, money, riches, fortunes treasures, storehouses, increase, power and plans. The guide is ideal for individuals looking for a straight-forward, unbiased review.
"I saw an unfilled need regarding non-denominational and unbiased Bible study material," Cortes says. "I felt impressed to develop a product to meet that need."
Cortes hopes that readers will find success by embracing the single word breakdown.
"My book allows the person looking for answers to any of life's problems to find that answer in God's word."
Just the Word – Success Series 1.0
By Kathryn Cortes
Softcover price: $9.95
ISBN: 978-1-44974-257-7 (softcover)
E-book price: $3.99
ISBN: 978-1-44974-256-0 (E-book)
Available at amazon.com, barnesandnoble.com, westbowpress.com
About the author
Kathryn Cortes is an author, educator and dietitian. With a background teaching children's Bible classes and personal devotion to studying the Bible, she developed a simple, straightforward, unbiased approach to comprehending God's word. Cortes resides with her family in Texas.