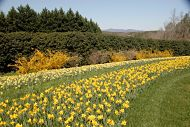 The Most Stunning Daffodil Garden Ever!"
Ball Ground, Georgia (PRWEB) February 15, 2013
Simply put: the gardens are amazing. More than 50 acres of daffodils blanket rolling hillsides and fields, flow along streams and border woodland nooks and crannies. Hundreds of cherry trees, forsythia, spirea, quince and thousands of mature dogwoods will come into bloom to create nature's own spring bouquet during the six-week daffodil season.
Jim Gibbs – the owner, designer and developer of Gibbs Gardens – began planting daffodils in his gardens in 1987. "We've planted nearly 4 million bulbs of more than 60 varieties over the years, often planting more than 250,000 bulbs a year."
Because Gibbs plants only bulbs that are naturalized for southern growing conditions, the bulbs divide each season to double in number year after year, creating a landscape bursting with an estimated 16 to 20 million lush daffodil blossoms. Gibbs Gardens is a very special place "where hillsides drip with gold and silver each spring," says Southern Living.
The 300-acre Gibbs estate garden in Cherokee County includes 220 acres of breathtaking gardens set in mature rolling woodlands dotted with ponds, springs, streams and waterfalls. Visitors to Gibbs Gardens are amazed by the diversity and breadth of its 16 artistically designed garden venues and dazzled by the four feature gardens:

Japanese Gardens, at more than 40 acres are the largest in the nation.
Monet Waterlily Gardens, featuring 140 varieties of unique lilies and a replica of the bridge in Monet's Garden at Giverny (outside Paris).
Arbor Crest Manor House Gardens, located on the highest ridge in northeast Cherokee County, where seven flowering terraces flow seamlessly down 150 feet of elevation from Arbor Crest Manor House to the Valley Gardens.
Daffodil Gardens, 60 varieties of daffodils sweep across more than 50 hillside acres under a canopy of flowering dogwoods and cherry blossoms.
Less than an hour's drive from Atlanta, Gibbs Gardens is already considered "one of our regions most treasured landmarks." The gardens are open from March 1 through Dec. 15. For more information, go to http://www.gibbsgardens.com. Gibbs Gardens is located at 1998 Gibbs Drive, Ball Ground GA, 30107. Phone 770-893-1880 or 770-893-1881.
Forty-year dream comes true:
Jim Gibbs, the owner, designer and developer of Gibbs Gardens, is the founder of Gibbs Landscape Co., one of the largest, oldest and most successful landscaping firms in Atlanta. Gibbs and his company have received more than 250 awards for landscape design excellence, including two national awards presented at White House receptions
.
"I've dreamed of creating a world-class garden in the Atlanta area for more than 40 years," says Gibbs. "After spending six years finding just the right property and another 30 plus years designing and developing Gibbs Gardens, that dream came true when we opened Gibbs Gardens to the public in March 2012."
Facts about Gibbs Gardens:
Gibbs Gardens is conveniently located less than an hour's drive north of Atlanta, between SR 400 and Hwy 575. Visitors will enter Gibbs Gardens off Yellow Creek Road in Cherokee County, from Hwy 53 on the north or SR 369 on the south.
The Welcome Center adjacent to the parking area includes The Seasons gift store, ticketing and restrooms. Just steps away, The Arbor Café offers a selection of sandwiches on fresh baked bread, desserts and daily specials on baked goods.
Gibbs Gardens will be open from 9:00 a.m. until 5 p.m. on Tuesday through Sunday from March 1 until April 15 (closed Monday for maintenance) and Wednesday through Sunday from April 17 through Dec. 15 (Closed Monday and Tuesday for maintenance).
Tickets to visit the gardens are $20 for general admission to all 16 garden venues. Seniors (65 and older), tour groups of 10 or more and children 4-17 can visit the gardens for $18. Children 3 and under are free.
There is no charge for parking. Trams -- $5 for a day pass -- will be available to take visitors between the Manor House Gardens and Valley Gardens and along other garden routes.
Gibbs Gardens Seasons of Color:
Gibbs Gardens "Seasons of Color" will begin in March 2012 as the Daffodil Gardens cover acres of hillsides with millions of blooms. The following is a Bloom Calendar for 2012:
Daffodil Festival, March 1-April 15 – One of the largest daffodil gardens in the United States covering more than 50 acres and featuring more than 3 million bulbs.
Cherry Blossom Festival, two weeks in March – More than 500 cherry trees planted.
Fern Dell Festival, from April through November, one of the largest natural ferneries in the country presents a more than half-mile display of fern varieties along streams and paths in the Valley Gardens.

Dogwood Festival, two to three weeks in April – Thousands of mature native dogwoods throughout 292 acres.
Azalea Festival, April into Fall – More than 1,000 azaleas, including Kurume, Indica, Satsuki and native azaleas.
Rhododendron Festival, two to three weeks in May – More than 150 varieties and more than 1,000 rhododendron plants.
Rose Festival, May through November – More than 1,000 roses in bloom.
Hydrangea Festival, May through October – More than 150 varieties totaling more than 1,400 plants.
Waterlily Festival, May through November – More than 140 varieties comprised of hardy and tropical waterlilies in all colors.
Daylily Festival, June through August – More than 500 varieties and thousands of daylilies.
Annual and Perennials Festival, July through November. Hundreds of varieties of annuals and perennials bloom each season in Gibbs Gardens, especially in the Manor House Gardens where en amazing display of lush bloomers fill sever terraces that flow 150 from the Arbor Crest Manor House to the Valley Gardens.
Crape Myrtle Festival, July through August – More than 1,000 trees bloom in shades of pink, red, white and lavender.
Wildflower Festival, September through November – 20 acres of rolling topography feature Golden Rod, Asters, Sumac and Ornamental grasses.
Oktoberfest, October through November – Thousands of trees covering 292 acres provide spectacular fall color. By the end of October. Oct. 15 through Nov. 15, Japanese Maples Festival when thousands of Japanese maples representing more than 75 varieties come into color.
Press Release submitted by Click Ready Marketing.