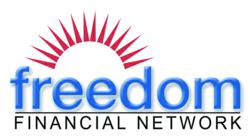 For 2013, individuals and businesses need to be wary of several tax increases.... consumers need to ensure they are not overspending so that they can avoid going into debt.
San Mateo, Calif. (PRWEB) February 26, 2013
"Despite the tax compromise reached in January by Congress and President Obama, taxpayers did not escape tax changes that, if not heeded, could lead to financial problems and even increased debt," said Kevin Gallegos, vice president of Phoenix operations for Freedom Financial Network (FFN).
"For 2013, individuals and businesses need to be wary of several tax increases. Some of these came from the American Tax Payer Relief Act and others from the Patient Protection and Affordable Care Act, also known as Obamacare," Gallegos said. "Anytime taxes go up, net income could effectively decrease. Now more than ever, consumers need to ensure they are not overspending so that they can avoid going into debt."
The tax code revisions do not affect 2012 income tax returns, although they have delayed filing of some 2012 taxes due to the Internal Revenue Service's need to reprogram its computers and forms.
Gallegos pointed out 10 key tax changes that could affect consumers' income in 2013 and beyond:
1. Income Tax Rate: Federal income tax rates for 2013 are largely unchanged, with one exception. Individuals earning $400,000, or couples filing jointly with incomes above $450,000, will now be taxed at 39.6 percent instead of 35 percent.
2. Social Security Tax Cut: The payroll tax cut put in place by Congress in 2010, known as the "Social Security tax holiday," expired at the end of 2012. As a result, most taxpayers have already seen their FICA tax withholdings increase by 2 percent for 2013. Employees will now pay a 6.2 percent rate (the self-employed will pay 12.4 percent). "The typical U.S. family earning $50,000 a year will lose the annual income boost of $1,000 that they have enjoyed for the past couple years," noted James Brown, vice president of FFN's Freedom Tax Relief division. In addition, the wage ceiling on which Social Security is taxed has been increased to $113,700.
3. Medicare Withholdings Rise: The 1.45 percent Medicare withholding tax is unchanged. However, taxpayers who earn more than $200,000 will have an additional 0.9 percent withheld for Medicare.
4. Exemptions and Deductions: The ability to claim personal exemptions for dependents and itemized deductions will be reduced as income goes up. This means exemptions and deductions will be more limited for high-income families. These tax breaks will be phased out if adjusted gross income is $250,000 or more (for individuals), or $300,000 or more (for married couples filing jointly).
5. Capital Gains Tax: Most taxpayers will continue to pay capital gains at a rate of 15 percent. The exception is high-income taxpayers. Individuals earning $400,000 or married couples filing jointly who earn $450,000 or more will pay capital gains tax at 20 percent, an increase of 5 percent.
6. Child Tax Credit: This credit enables families to reduce their federal income tax by up to $1,000 for each qualifying dependent child under the age of 17. It also allows parents to take a credit of up to 35 percent of child care costs. The Tax Payer Relief Act temporarily extended this credit for families through 2017.
7. Earned Income Tax Credit: This tax credit offsets payroll taxes by providing a subsidy for low-income working families who have earned income between $13,980 and $50,270. The Tax Payer Relief Act temporarily extended this credit for families through 2017.
8. American Opportunity Tax Credit: This temporary education credit was extended through 2017. It offsets the cost of $2,500 of qualified education expenses paid for each eligible student. To qualify, the modified adjusted gross income for single heads of households cannot be more than $90,000, or $180,000 if married filing jointly.
9. Medical Deductions: Fewer families will be able to claim medical expenses. The new rule allows taxpayers who itemize to deduct only those medical expenses that exceed 10 percent of their adjusted gross income. Previously, the cutoff was 7.5 percent of adjusted gross income (and until 2016, the rate remains 7.5 percent for those 65 and older). "To offset this change, taxpayers can consider using a pretax plan, such as a flexible spending account, if one is available to them," Brown suggested.
10. Alternative Minimum Tax (AMT): The original intention of this tax was to keep wealthy taxpayers from using loopholes to avoid paying taxes. But because the tax was not automatically updated for inflation, more middle-class taxpayers were affected. The AMT is now permanently indexed to inflation. Without this correction, nearly half of households with incomes between $75,000 and $100,000 (an estimated 30 million families) would have been subject to higher taxes.
"Savvy consumers will immediately adjust their household budgets to account for changes, including the end of the payroll tax holiday," Gallegos said. "It is also important for individuals and family to set aside more savings for unexpected situations, such as high medical bills, as those situations will become even more costly starting in 2013."
Freedom Financial Network (http://www.freedomfinancialnetwork.com)
Freedom Financial Network, LLC (FFN), provides comprehensive consumer credit advocacy services. Through its Freedom Debt Relief, Freedom Tax Relief and ConsolidationPlus products, FFN works as an independent advocate to provide comprehensive financial solutions, including debt settlement, debt resolution and tax resolution services for consumers struggling with debt. The company, which has resolved more than $2 billion in debt for more than 150,000 clients since 2002, is an accredited member of the American Fair Credit Council, and a platinum member of the International Association of Professional Debt Arbitrators. The company holds the Goldline Research Preferred Provider certification for excellence among debt relief companies.
Based in San Mateo, Calif., FFN also operates an office in Tempe, Ariz. The company, with more than 550 employees, was voted one of the best places to work in the San Francisco Bay area in 2008, 2009 and 2012, and in the Phoenix area in 2008, 2009, 2010 and 2012. FFN's founders received the Northern California Ernst & Young Entrepreneur of the Year Award in 2008.
(end)