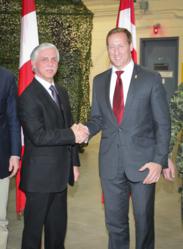 We are committed to the upkeep of these facilities which include armouries, vehicle maintenance facilities and rifle ranges, and to ensuring the safety of all occupants and visitors, George Lidgett, EVP, ATCO Structures & Logistics
Toronto, Ontario (PRWEB) February 15, 2013
ATCO Structures & Logistics (ATCO) announced today that it has been awarded a facilities and operations management contract with Defence Construction Canada (DCC), which provides construction contract management and related infrastructure services to the Department of National Defence (DND). ATCO will provide site services to 45 DND sites located in southwestern and northern Ontario, as well as the Greater Toronto Area. The five-year contract begins in April 2013 with an option to be extended for an additional five years.
The contract comes after a successful 10 year relationship with DCC in which ATCO provided similar services on a smaller scale. This larger contract was awarded after a competitive bid process that sought to consolidate the operations and maintenance of DND infrastructure across multiple locations, ensuring a consistent delivery of services. ATCO Structures & Logistics will now manage a gross total building area of 226,974 square metres.
"We are delighted to continue our relationship with DCC and to assume the responsibility for the operation and maintenance of these critical DND assets," said George Lidgett, Executive Vice President, ATCO Structures & Logistics. "We are committed to the upkeep of these important facilities which include armouries, vehicle maintenance facilities and rifle ranges, and to ensuring the safety of all occupants and visitors."
ATCO will be responsible for roads and grounds maintenance, building safety, equipment maintenance, document management, environmental management, capital planning and range and training area control. ATCO will also implement and manage a health and safety program that is in compliance with all health and safety and environmental regulations.
ATCO Structures & Logistics offers modular buildings, site services and industrial noise control solutions worldwide. With manufacturing facilities in North America, South America and Australia, and operations on six continents, the company has the expertise to deliver a rapid, turnkey solution anywhere it is needed. To learn more, visit http://www.atcosl.com.
ATCO Structures & Logistics is part of the ATCO Group of Companies. ATCO Group, with more than 8,800 employees and assets of approximately $14 billion, delivers service excellence and innovative business solutions worldwide with leading companies engaged in structures & logistics (manufacturing, logistics and noise abatement), utilities (pipelines, natural gas and electricity transmission and distribution), energy (power generation, natural gas gathering, processing, storage and liquids extraction) and technologies (business systems solutions). More information can be found on http://www.atco.com.
For media inquiries or further information, please contact:
Alisa Charkova
Senior Advisor, External Communications
ATCO Structures & Logistics
Tel. 1 403 292-7769
Mob. 1 403 826-0961