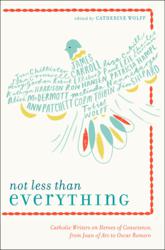 "It is my hope that the writers in this book may serve as an inspiration. Their celebration of saints official and unofficial is eloquent testimony to their appreciation for all that is good in the church."—Catherine Wolff, from the Introduction
San Francisco, CA (PRWEB) February 15, 2013
In Not Less Than Everything: Catholic Writers on Heroes of Conscience, from Joan of Arc to Oscar Romero (HarperOne; Paperback; February 2013), editor Catherine Wolff has compiled a thoughtful and engaging collection of essays and reflections on the Catholic figures who continue to inspire and serve as role models today.
Covering a range of subjects and topics, the anthology includes profiles of the men and women who found great personal, spiritual, and intellectual strength to keep their faith while challenging the traditional church. Some were denounced as heretics, others suffered injustice for following their conscience in ways displeasing to church authorities. And yet all of these figures have what theologian Elizabeth Johnson calls "uncanny integrity." They saw through a lens of great moral clarity, were fueled by passionate motivation, and remained steadfast in their beliefs.
Including essays from Ann Patchett on Charles Strobel, Colm Toibin on Gerard Manley Hopkins, and Alice McDermott on Horace McKenna, S.J., the anthology showcases some of today's most respected writers and thinkers engaging personally with their favorite saints, official and not. Confronting the challenges of living one's faith in the real world, Not Less Than Everything will appeal to both a Catholic audience struggling to make sense of their faith amidst current changes, and a wider readership eager to explore the abiding tensions between conscience and authority.