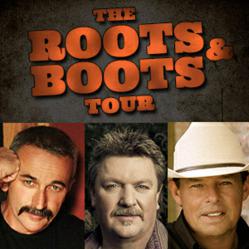 Modesto, CA (PRWEB) February 19, 2013
Country music veterans Aaron Tippin, Joe Diffie and Sammy Kershaw have teamed up for a national tour, "Roots & Boots," that they are bringing to the Gallo Center for the Arts at 7 pm on Wednesday, March 13. On stage together, the trio will perform acoustic versions of their more than forty Top Ten hit songs, as well as share stories about the roots of their music.
Tickets for the concert range from $19 to $69, and can be purchased online at GalloArts.org, by calling (209) 338-2100, or at the Gallo Center ticket office, 1000 I Street in downtown Modesto.
Tippin's fame was launched with the release of his uncompromising single "You've Got to Stand For Something." He followed that with chart toppers including "I Wouldn't Have It Any Other Way."
Since he first topped the charts in 1990 with "Home," Diffie has delivered twelve #1 hits, twenty top 10's and four gold and platinum albums.
Kershaw's platinum-selling albums have had hits such as "She Don't Know She's Beautiful," "I Can't Reach Her Anymore" and "National Working Woman's Holiday."
The Gallo Center's Premier Partner for the 2012-2013 season is Boyett Petroleum. Sponsors for the concert are Oak Valley Community Bank and Walmart.