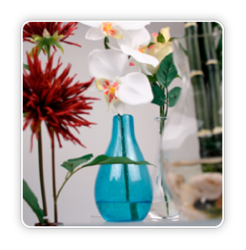 The artificial water really caught my eye. I was pleasantly surprised when I finally realized it wasn't actually water.
Parsippany, New Jersey (PRWEB) February 15, 2013
Love, art, unity, passion, life, creativity, youth, friendship. These are just some of the many things flowers symbolize in today's society. Even in today's ever-changing home décor market, flowers have remained a crucial element to any interior home décor style – and with good reason. Flowers are some of the most elegant and beautiful accents for any interior design style.
However, with dedicated home decorators around the world spending hundreds of dollars on new arrangements and floral maintenance, real flowers are certainly one of the more costly ways to accent a home. While silk flowers provide a great alternative to real flowers, they might not always be enough to push your home décor from standard to fabulous.
In recent months, Jodhpuri's scented artificial flowers have become some of the hottest home décor products around. Due to the success of their scented silk centerpiece arrangements, Jodhpuri's renowned product development team has perfected the swan song of all artificial flowery. By combining high-quality silk flowers with elegant vases and realistic faux water, Jodhpuri's new Water Illusions line is quickly gaining popularity as a home décor marvel.
Formed by high-precision mods, Jodhpuri's intricately designed Water Illusions faux water arrangements have a natural and realistic look. The amazing elasticity of the stems, foliage, and buds imitates the flexibility of real flowers, while the natural-looking fibers give an incredibly realistic look. These incredible flowers are placed in beautiful vases with a clear acrylic solution that gives the arrangement a deceivingly realistic appearance.
Unlike many artificial flowers on today's market, Jodhpuri's Water Illusions line creates the illusion of a real flower in actual water, recently making it an unbelievably popular home décor item. Available in various colors and styles, Jodhpuri's Water Illusions line is the perfect, affordable solution for any interior design style.
Like many of Jodhpuri's other products, each Water Illusion is hand-assembled in the United States to ensure the highest quality possible.
For more information, or to see Jodhpuri's entire product line, please visit http://www.jodhpurionline.com. Jodhpuri products are also available on http://www.amazon.com, search word "Jodhpuri."
Follow Jodhpuri Inc. on Facebook and Twitter for the latest home decor and home fragrance trends and products.
Jodhpuri Inc. is headquartered in Parsippany, New Jersey, and has been in business for over 23 years. Jodhpuri is a leading manufacturer and distributor of home fragrance and décor products, such as reed diffusers, candles and accessories, potpourri, incense, Scented Real Touch Flowers, water acrylics, artificial greenery, and other related items.