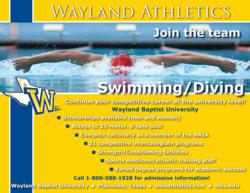 We're excited about the announcement and believe that this is another milestone for Wayland athletics.
PLAINVIEW, Texas (PRWEB) February 16, 2013
The Wayland Baptist University athletics department is expanding once again.
With a big assist from the Plainview YMCA, WBU Athletics Director Dr. Greg Feris has announced that a swimming and diving program for men and women will be offered beginning with the 2013-14 school year.
"In keeping with our goal of providing a broad-based athletics program that encourages opportunities for a wide variety of students, the university is pleased to announce that swimming and diving for men and women will be added to our intercollegiate athletics program in the fall of 2013," Feris said. "We're excited about the announcement and believe that this is another milestone for Wayland athletics."
The swimming and diving program will utilize the Plainview YMCA's swimming pool for its conditioning and practice facility, with venues in Lubbock and Amarillo being considered for competitive purposes.
"A step like this could not be taken without the Y agreeing to provide the venue," Feris said. "A scheduled time frame for the college team to work out has been arranged that will not interfere with existing Y programming. Fortunately, the YMCA has allowed the university to provide recreational swim opportunities and swim classes at the facility for many years."
Plainview YMCA Executive Director Rob Wilkinson said this is another step in strengthening the bond between Wayland and the Y.
"We've got a great relationship with Wayland, so it's just expanding that," he said.
Wilkinson said the Y's 25-meter, six-lane pool will be available to Wayland student-athletes during off-peak hours, including before the facility opens to the public at 6 a.m. and between 2-4 p.m.
"If we have an open time, whether it's in the pool or the gym, and a chance to better the community, then we're all for it," Wilkinson said. "As far as we see it, this is a win-win."
Feris said the number of athletes that collegiate swimming and diving programs attract varies among schools. Ideally, he said, Wayland's program would see 40-50 student-athletes in the men's and women's programs combined. At the university level, there are 19 events in swimming (14 individual events and five relays) along with one-meter and three-meter springboard diving.
In Texas, at least a dozen universities offer intercollegiate swimming and diving, most at the NCAA Division I level. Wayland will compete as a member of the National Association of Intercollegiate Athletics (NAIA).
"Our closest competition will be with University of Texas-Permian Basin (in Odessa) and McMurry (in Abilene)," Feris said.
Across the country, close to 25 NAIA schools offer swimming and diving. Currently, Oklahoma Baptist University is the only school in the Sooner Athletic Conference with swimming and diving, although one or two other schools in the league are considering it, Feris said. OBU, the defending men's national champion, will host the 2013 NAIA national meet in Oklahoma City.
The collegiate swim season begins in mid- to late-October and ends in early March.
"The decision to add swimming and diving not only will enhance our overall athletics program, but will continue to strengthen enrollment as well as add another element of excitement and energy to the campus," Feris said.
He said research suggests that swimming and diving is an extremely popular sport with thousands of young people swimming competitively in high school and club programs.
"In Texas' UIL Region I alone, there are more than 50 high schools competing in swimming," Feris said.
That includes high schools in both of the Lubbock and Amarillo independent school districts, as well as Midland, Odessa and Abilene, plus a number of smaller school districts, mostly in the Permian Basin area.
Applications are now being accepted for a head coach to lead Wayland's program.
The addition of swimming and diving takes the number of intercollegiate athletic programs at WBU to 21. In the past two-plus years, Wayland has introduced men's soccer, men's and women's wrestling, co-ed cheer and dance, and football.
Wayland Baptist University is a faith-based university offering associate's, bachelor's and master's degrees in Texas, Oklahoma, New Mexico, Arizona, Alaska, Hawaii and online.