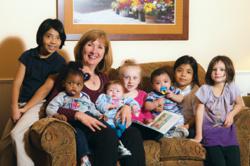 South Bend, IN (PRWEB) February 28, 2013
Center for Hospice Care is pleased to announce that this year's Helping Hands Award Dinner will honor Ann Manion, volunteer president of Women's Care Center. The theme, "Celebrating Life" was selected in recognition of Ann's work at Women's Care Center as well as in recognition of Center for Hospice Care (CHC) and its dedication to improving the quality of living.
Since it began in 1985, the Helping Hands Award Dinner has honored an individual, couple or family who demonstrates civic and charitable stewardship to improve the quality of living in the communities served by Center for Hospice Care. The award recognizes the recipients for exhibiting generosity, outstanding community achievements, direct financial support, or by motivating others to give.
There are those people whose work shines outside the spotlight of public notice. They give selflessly and patiently of themselves, never seeking recognition for the time and talent they dedicate to their cause of choice.
One such person is Ann Manion. Since 1988, she has served as volunteer President of Women's Care Center, the nation's largest pregnancy resource center. She was also a founding board member of Hannah's House, a maternity home for pregnant teenagers, jointly founded by St. Joseph Hospital of Mishawaka and Women's Care Center in 1993.
During her tenure as president, Women's Care Center has grown from one small center on St. Louis Boulevard to 17 sites in Indiana, Michigan, Ohio, and Wisconsin. The organization has an additional four licensee centers in Indiana, Illinois, Wisconsin, and Minnesota. It is a testament to Ann's leadership that Women's Care Center is funded solely through donations.
Ann was a member of the second class of women to gain entrance to the University of Notre Dame, graduating magna cum laude in 1977 with a bachelor's degree in business administration. She was a senior manager with Price Waterhouse from 1977-1988. Ann is married to Daniel Manion, a judge on the 7th Circuit Court of Appeals. They have four children – Mary, Katherine, Patrick, and Michael – ranging in age from 14 to 24.
Through her work at Women's Care Center, Ann has positively impacted the lives of thousands of people in Elkhart, LaPorte, Marshall and St. Joseph Counties in Indiana and (CHC) is pleased to honor her accomplishments at this year's Helping Hands Award Dinner.
The event will be held on Wednesday, May 1st at the Hilton Garden Inn South Bend, beginning with a cocktail reception at 6 pm. Dinner will begin at 7 pm, in the Fleur de Lis Ballroom.
Online reservations are available at $150/person and can be made at http://www.foundationforhospice.org/helping-hands/helping-hands-2013/. For more information on the event please contact Lisa Kelly at 574-243-3119 or KellyL(at)centerforhospice(dot)org.