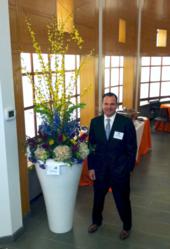 Hoffman Design Group donated fresh floral pieces from tabletop centerpieces to a nine foot tall display.
Philadelphia, PA (PRWEB) February 15, 2013
On Tuesday, February 12th, Pennsylvania Horticultural Society (PHS) President Drew Becher provided a sneak peek at this year's PHS Philadelphia Flower Show and its theme "Brilliant!" This year's show features the contemporary culture, design, gardens, and landscapes of our neighbors across the pond, Great Britain. Event decorator Hoffman Design Group donated fresh floral pieces from tabletop centerpieces to a nine foot tall display.
In keeping with the theme, Hoffman Design Group provided a little extra excitement at this month's event by sponsoring a performance by the Philadelphia Gay Men's Chorus who entertained event-goers with British pop standards. Another highlight was the surprise presence of Her Majesty Queen Elizabeth II! Guests were delighted to mingle with the charming, quick-witted Queen and would hardly have enjoyed her more had she been the actual Queen of England!
The PHS Philadelphia Flower Show opens on Sunday, March 3rd and runs through Sunday, March 10th. If you don't want to wait another two weeks experience an English garden, the Lobby Display promotion is already underway at eight locations throughout Philadelphia. Hoffman Design Group has participated in the lobby display promotion for the last three years, and this year their displays can be seen at:
2000 Market Street
1515 Market Street
The other six locations include:
21 S. 12th Street
Ten Penn Center, 1801 Market Street
Eleven Penn Center, 1835 Market Street
Cira Centre, 2929 Arch Street
Centre Square, 1500 Market Street
Aramark Tower, 1101 Market Street
Hoffman Design Group is giving away two tickets to the Flower Show, good during all open hours. For a chance to win, visit their Facebook page. Look for a post from February 13th and "like" it or comment on it, or "like" their page and comment that you want to be entered into the drawing. The winner will be announced on Tuesday, February 19th.
About Hoffman Design Group
Hoffman Design Group, Inc, is located in Folcroft, PA, and specializes in creating beautiful interiorscapes, corporate floral arrangements and living wall designs in Philadelphia and the surrounding suburbs, Delaware, and New Jersey. Its designs have won many awards and they take pride in their elegant, environmentally friendly seasonal and holiday decorating, corporate indoor plantscapes and urban exterior landscaping. For more information, visit:
http://www.hoffmandesigngroup.com.