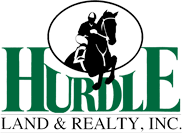 We have always valued a person's right to land ownership over the importance of price.
Nashville, Tenn. (PRWEB) February 15, 2013
Buyers and investors are beginning to turn to southeast area rural land developers like Hurdle Land and Realty for affordable farm land. According to an article recently published at FarmFutures.com, farm prices in the Midwest have dramatically increased the over past several years causing investors to seek out equally fertile farmland elsewhere.
Over the past few years farms in the Midwest have experienced an increase in profits leading to a rise in land costs. Some believe if this trend continues it will lead investors and buyers to seek out equally promising land at affordable prices in other regions of the country. This change in the market spells out good news Hurdle Land and Realty. Hurdle offers a wide range of rural properties in the regions across the southeast, an area that is looking more attractive to investors.
"We have always valued a person's right to land ownership over the importance of price," stated Hurdle Principal Geoff Hurdle. "Our philosophy is based on the fact that owning your own land is part of the American dream. We also understand the importance cultivating rural land for better use and that is why we offer farm land; owner financed with liberal terms for anyone."
According to the article published by Farm Futures, current buying trends are showing a renewed interest in fundamental business principles. The people spending money on land are not only looking for value, they are also trying to find land that is going to be profitable, with long-term demand, low costs, and a high rate of return. These principles all agree with Hurdle's core land ownership ideal - that the land can pay for itself through farming and other agricultural activities, even if you decide to live on the property as well.
Currently Hurdle has a wide range of available farm tracts in the southeast located across Tennessee, Georgia, South Carolina and Alabama. Farms vary in size and are suitable for an assortment of farming operations. Aside from competitive prices Hurdle also offers additional services that make the purchasing process less cumbersome, such as managing any additional costs associated with buying land. Hurdle claims that many of these costs can quickly take a buyer out of his or her price range.
To learn more or see available properties, visit Hurdle Land and Realty's website at http://www.hurdle.com.