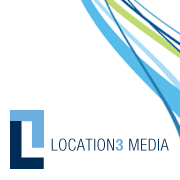 The Denver Business Journal's Book of Lists showed Location3 Media was the top advertising agency in the Denver area by gross revenue in 2012.
Denver, CO (PRWEB) February 25, 2013
Between 1999 and 2012 Location3 Media went from a small startup with a handful of employees to a national agency ranked in the top tiers of the Denver Business Journal's Fastest Growing Private Companies. 2012 represented another year of this explosive growth with gross revenue up nearly 13 percent over 2011.
"When I look at our revenue growth over 2012 I feel like there's so much tied up in that single figure. It represents all the emails I get from our analytics team in the middle of the night, all of the great ideas I hear in strategic planning meetings, all the energy I feel in the room when we get passionate people together to talk about moving the needle for a client. That 13 percent is the result of many very smart people working very hard for 365 days, and I'm really proud of it," said Location3 President Alex Porter (@porter32).
Location3 provided digital marketing solutions to dozens of new clients in 2012 in diverse verticals such as technology, education, retail and financial services. New partners include Fresh Produce, Homewatch Care Givers, U-Save Car Rental, Craters & Freighters and UDR.com, along with many more Fortune 500 brands. Location3 team members look forward to providing these industry leaders with results that exceed their expectations of what digital marketing can accomplish.
This rapid expansion hasn't gone unnoticed. The Denver Business Journal's Book of Lists showed Location3 Media was the top advertising agency in the Denver area by gross revenue in 2012. The newspaper also ranked Location3 #10 in Flight II of its annual list of the Fastest-Growing Private Companies. The ranking was based on the company's 57 percent revenue growth between 2009 and 2011. This growth percentage also led to Location3 being ranked in the Inc. 500|5000 list of fastest growing private companies in America for the sixth year running. The Inc.5000 list began as a supplement to the Inc.500 to recognize the small and mid-sized companies that support the American economy.
When Location3 was listed in the very first Inc.5000 in 2007 the company only had 20 employees. Today the downtown Denver location holds 75 full-time team members, 19 of which were added in 2012 alone. The expansion continues as five people have been hired in the first month of 2013. Many of these talented individuals have been brought on to provide additional depth in Location3's local search and content development capabilities. Other new team members are focused on providing excellent client services, developing technology tools and executing media buying strategies.
With these pieces in place, 2013 looks to be another promising year for one of Denver's fastest-growing private businesses.
For more information contact Josh Allen: jallen(at)location3(dot)com | 720.763.3151
Location3 is a digital marketing partner built to improve the findability and performance of consumer and multi-unit retail brands through enterprise-level and local digital marketing solutions. Founded in 1999 and located in the heart of Denver, Location3 has a staff of 75 full-time employees who service global, national and local brands. More than half of Location3's client base has worked with the agency for at least three years, as Location3 improves the findability and performance of every client they partner with.